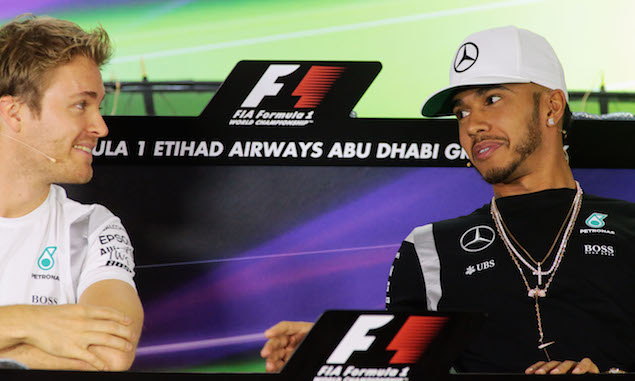 Lewis Hamilton says he was not surprised to hear Nico Rosberg's decision to retire from Formula One with immediate effect.
Rosberg announced on Friday he would not defend the drivers' world championship he had won in Abu Dhabi, with the German saying he is not willing to make the same commitment as he had been required to do in 2016. Rosberg called Hamilton to inform him of his decision before making the announcement, and the triple world champion says the news did not come as a shock to him.
"The sport will miss him but I wish him all the best," Hamilton said. "I'm sure it was a surprise to many people. I'm probably one of the many people that it was not a surprise for but that's because I've known him for a long, long time. But this is motor racing."
And Hamilton said he can understand the reasons for his team-mate deciding to end his F1 career, with a family to spend more time with.
"This is the first time he's won in 18 years, hence why it was not a surprise that he decided to stop. But also he's got a family to focus on and probably wants to have more children. Formula One takes so much of your time.
"In terms of missing the rivalry, of course because we started karting when we were 13 and we would always talk about being champions. When I joined this team Nico was there which was something we spoke about when we were kids so it's going to be very, very strange and for sure it will be sad to not have him in the team next year."
Technical analysis - Abu Dhabi
Scene at the Abu Dhabi Grand Prix
Abu Dhabi Grand Prix - Quotes of the week
DRIVER RATINGS: Abu Dhabi Grand Prix
Keep up to date with all the F1 news via Facebook and Twitter