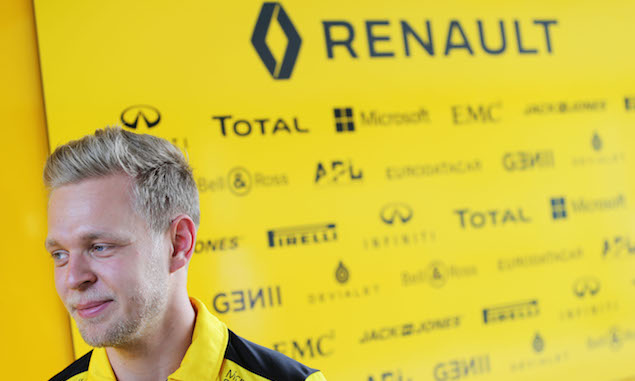 Kevin Magnussen has revealed he turned down an offer to stay with Renault, as he felt the French manufacturer was not really committed after trying to sign so many other drivers.
F1i understands the Dane has agreed on a multi-year deal to join Haas F1 Team with an announcement expected at this weekend's Brazilian Grand Prix.
Magnussen's F1 career received a lifeline when Renault called him up to replace Pastor Maldonado on the eve of the current campaign.
The deal was only for this year with an option for 2017 that had to be activated by October 1. The 24-year-old agreed to extend the deadline for another two weeks but a confirmation never materialised.
With Jolyon Palmer announced alongside Nico Hulkenberg on Wednesday, Magnussen was asked whether he was leaving Renault on his own account.
"Yeah, it was my decision," he replied. "I had an offer, but it was not a good enough offer that I could take it."
The former McLaren driver adds that the length of the contract was not the issue but rather the fact that Renault tried to secure the services of the likes of Toro Rosso's Carlos Sainz, Force India's Sergio Perez, and Williams' Valtteri Bottas, before making him an offer.
"It was more the feeling of commitment from Renault's side. If they had committed to a longer contract then I would have probably looked at it much more seriously.
"It was more the feeling of them not committing, offering the drive to so many others and I think at one point the Pope had an offer! It was a bit messy, so it's better for me to leave.
Magnussen admits the lack of transparency in dealings has left him with a bitter aftertaste, though he is grateful for what the team has done for his career.
"They didn't even tell me they were offering them. More openness would have been good as well. But it is how it is and I have enjoyed my season with the team and I think it really is a great team.
"I love the people here and they have all been so friendly and they are very good as well, and I'm sure if they get the resources and the structure in place they can do the job.
"So there is sadness with leaving the team as well, I'm going to miss a lot of the people here. Hopefully we can keep in touch and luckily we will be in the same paddock next year. It's not all bad."
Romain Grosjean column: Time for Haas to raise its game
Chris Medland's 2016 Brazilian Grand Prix
FEATURE: What Rosberg need to do to win the title in Brazil
INTERVIEW: Fernando Alonso: Why F1 is no longer just for heroes
TECHNICAL: Under the skin of the Ferrari SF16-H
Keep up to date with all the F1 news via Facebook and Twitter