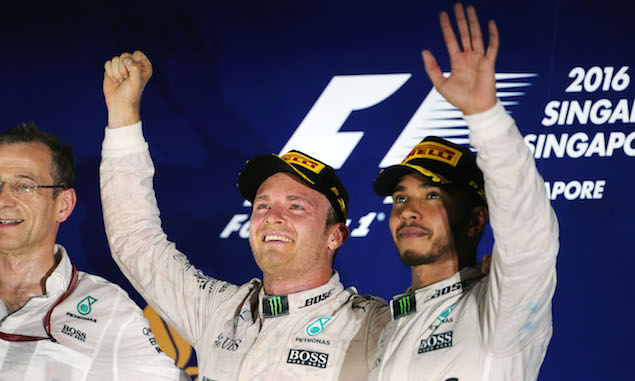 Four-time Formula One world champion Alain Prost says he has been impressed with Nico Rosberg's composure and level of performance in recent weeks.
The Mercedes driver took the F1 points lead from team-mate Lewis Hamilton after claiming the Singapore Grand Prix last Sunday. Rosberg, who had seen his archival turn a 43-point deficit into a 19-point advantage before the summer break, is now on a three-race winning streak and eight points clear of Hamilton.
"Nico delivered a fantastic weekend in Singapore with an incredible pole position on Saturday followed by a very mature drive on Sunday," Prost told French broadcaster Canal+.
"You could feel him very much in control all weekend, whereas Lewis Hamilton was not. He did not really perform and looked a bit shaky. Rosberg took a commanding win but still had to fight for it, something that had been awaited of him for a while."
The Frenchman, whose intra-team rivalry with fellow racing legend Ayrton Senna at McLaren is part of the F1 history, adds that Rosberg, who lost out to Hamilton in the title fight in the last two seasons, appears well-equipped to cope with the pressure of the championship run-in this time around.
"You can see the momentum shifting often at Mercedes. When one driver if performing, the other looks a bit off. We have yet to see them compete wheel-to-wheel but I think it will happen before the end of the season.
"The title will be decided on small details, like the starts, another car splitting the Mercedes - one place can make a big difference in the end -, but it will also be a mental fight.
"Before Singapore, you'd have thought Hamilton had the upper hand in that area but Rosberg has showed us he can be really solid as well."
Quotes of the week - 2016 Singapore Grand Prix
2016 Singapore Grand Prix - Driver ratings
REPORT: Rosberg takes title lead after Singapore thriller 
Breakfast with ... Bernd Maylander