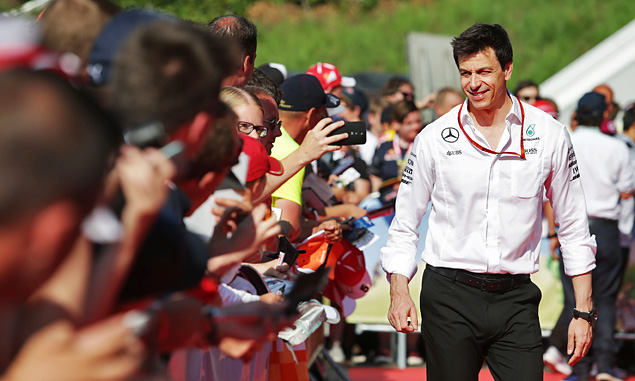 Mercedes boss Toto Wolff admits that he's concerned that the changes to Formula One's technical regulations for 2017 could hit the performance advantage his team currently holds over its rivals.
Wolff pointed out that the current resurgence from Red Bull has already put Mercedes under increased sustained pressure in recent races.
"Red Bull clearly have a more competitive package as Renault has improved a lot," Wolff said. "And next year the new regulations clearly give huge opportunities.
"We were expecting Hungary to be a very difficult one and Red Bull to be performing well and it was the opposite, we were actually as strong as in Silverstone.
"But Hockenheim could have been won easier for us and it was the opposite, so it isn't clear cut. They keep coming back and there isn't a lot of speed differential on the straight any more," he pointed out.
"They will be coming back in good form next year and even the second half of the season I have no doubt."
Nor is it just Red Bull: while Ferrari might have dropped back in the last few outings, Wolff believes that this is because the team is throwing its resources into next year's car.
"I don't think you can write Ferrari off, they have clearly had a tough time most recently. I think they switched off very early for 2017. Never underestimate a team with so much resources and so much passion.
"The expectations for Ferrari are always very high - and living up to those expectations is a different matter," he added. "Probably after a strong 2015 season we see a setback for Ferrari this year, but I do believe that they are improving.
While Mercedes still holds a big advantage over its rivals, Wolff insists that he's not taking anything for granted - and certainly not the world title.
"This team is winning almost every race, we've kept it now for two and a half years but that's not going to last.
"I am not aware that we have received the trophy for the constructors' title yet," he said. "We will come back nine more times.
"We are sceptical people and believe that you haven't won until it is mathematically over. Not one single day earlier."
Ocon replaces Haryanto at Manor
Nicolas Carpentiers compares the many versions of the Ferrari steering wheel
Felipe Nasr writes exclusively for F1i about Hungary, Germany and the summer break
Keep up to date with all the F1 news via Facebook and Twitter