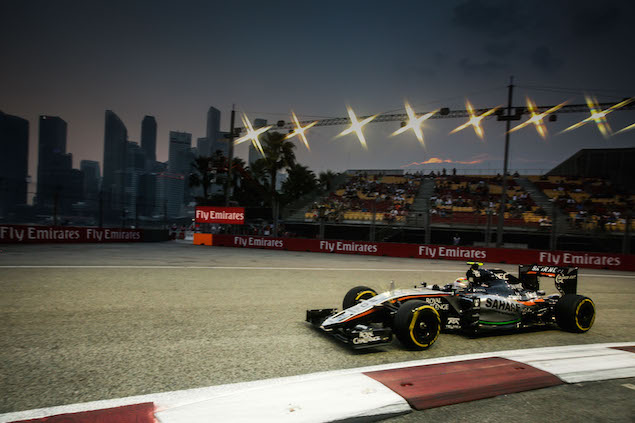 A plan by terrorists with alleged links to so-called Islamic State to stage a rocket strike on next months' Singapore Grand Prix has been foiled, according to media reports.
The gang were plotting to launch the attack from the Indonesian island of Batam, just 10 miles from Singapore. Rockets were to have been fired across the strait between the two islands.
"This shows how our enemies are thinking of different ways of attacking us," said Singapore's home affairs minister Kasi Shanmugam.
"Terrorists will seek to come in through our checkpoints. They will also try to launch attacks from just outside. And this is in addition to lone-wolf attacks."
31-year-old Gigih Rahmat Dewa and five other suspects have been arrested after their plot was detected through online social media discussions. They are believed to have links to Bahrun Naim, an Indonesian IT graduate accused of organising a massacre in Jakarta six months ago and who is now with IS in Syria.
"The men in Batam seem to have been radicalised over social media, specifically using Facebook, rather than directly," police spokesman Boy Rafli Amar told Reuters.
"They didn't announce it but they were discussing it - communicating on social media between all the members.
"They have been in communication with Bahrum Naim in Syria. It looks like he sent funds and instructions to them," he added.
Whether the group would have been capable of actually staging the attack is unclear. Police found only a rudimentary collection of bomb-making material, firearms and arrows during their search of the ringleader's home.
January's deadly attack on Jakarta consisted of a straightforward gun and bomb assault staged by four militants which was swiftly dealt with by the police. Last month another would-be terrorist attempted a suicide bombing rub on a police station in Solo using a motorcycle, but the only fatality in the incident was the attacker himself.
However experts have warned that despite the police success in stopping this particular group, there are likely to be other clusters of militants looking for targets to attack in the region.
Security is expected to be stepped up in Singapore when the city hosts the 15th race of the 2016 season on September 18 at the glittering Marina Bay waterfront street circuit.
Chris Amon: A legend's career in pictures
Silbermann says ... Beer can save F1's future
Breakfast with ... Christian Danner
Keep up to date with all the F1 news via Facebook and Twitter