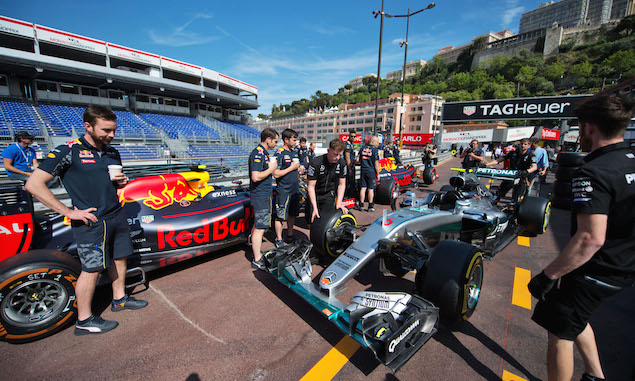 Toto Wolff admits he was surprised by Red Bull's decision to get through Q2 on the supersoft tyre to start on that compound in the Monaco Grand Prix.
Daniel Ricciardo took pole position with an impressive lap on Saturday, beating Nico Rosberg and Lewis Hamilton. While Wolff praised Red Bull's pace he admits he is unsure why it opted to start the race on anything other than the softest compound which the rest of the top ten will start on should the race be dry.
"So first of all they are on pole and the stop watch never lies and this is why we love this sport," Wolff said. "They deserve to be on pole, they put in an amazing lap and here we go.
"In terms of their strategy, clearly a very interesting one. They were the only ones. So it's either extremely clever or not. There is a risk at the start because the grip level is not the same as on the ultrasoft but I don't think that the tyres are a lot different, and then it all depends how they play on strategy during the race and certainly we have a couple of cards to play, not factoring in the weather. So let's see how that pans out."
And Wolff says the ultrasoft tyre is still able to last for enough laps to make it a one-stop race, adding to his surprise at Red Bull's decision.
"The ultrasoft was pretty robust [on Thursday] in the long runs; it looked like the tyre that we would probably take to a one-stop strategy. I'm not 100 per cent sure why they decided to do that and it was Ricciardo's long run that proved that [in practice]."
Pirelli motorsport boss Paul Hembery believes the ultrasoft tyre will last for at least 25 laps at the start of today's race, though rain throughout the morning makes it likely all teams will start on the intermediate or wet tyre.
QUALIFYING REPORT: Superb Ricciardo takes pole in Monaco
Technical feature: What will the 2017 F1 cars look like?
Daniil Kvyat exclusive: Time to think about life after Red Bull
Romain Grosjean column: 'I want Jules to always be with us'
Keep up to date with all the F1 news via Facebook and Twitter