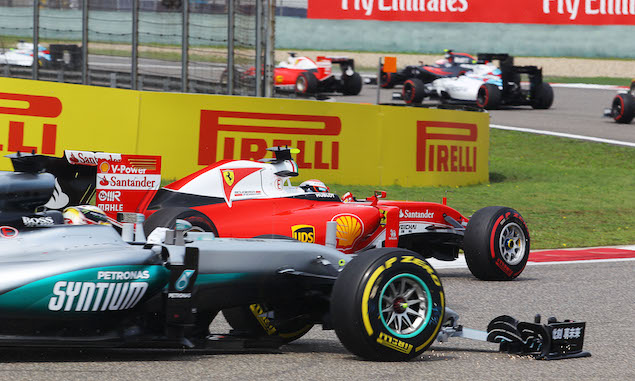 Toto Wolff believes Ferrari was "conservative" with its power unit in China after a failure which ruled Sebastian Vettel out of the race in Bahrain.
Vettel's power unit failed on the formation lap in Bahrain, leaving Kimi Raikkonen as the only Ferrari in the race two weeks ago. Heading to China - where president Sergio Marchionne was present - Wolff believes Ferrari did not run at 100% in order to avoid another reliability issue.
"They are definitely a threat," Wolff said. "They came a little bit conservative on the engine this weekend than in Bahrain and it's just a matter of time."
With the two Ferrari's colliding at Turn 1 but Vettel still finishing second - albeit well over half a minute adrift of Nico Rosberg - Wolff says the recoveries from both Ferrari drivers acts as a warning of the team's potential.
"They tripped over each other at the start which heavily compromised their race, Vettel's car was damaged twice in the race. If you consider where they were at the end of lap one and they ended 2 and 5 this must be a satisfying result for them. They're very much a competitor."
And Wolff sees Red Bull as a threat too after its impressive showing in China, with Daniel Ricciardo qualifying second and Daniil Kvyat finishing on the podium.
"The pace they had today was very strong. It would be good if they bounce back. Considering that Ricciardo lost his race with the puncture you can imagine that he would certainly have given Vettel some competition. Certainly this weekend they seem to have gained some performance."
REPORT: Rosberg cruises home ahead of chaos in China
Chinese Grand Prix lap-by-lap as it happened
Eric Silbermann has breakfast with photographer Crispin Thruston
Keep up to date with all the F1 news via Facebook and Twitter