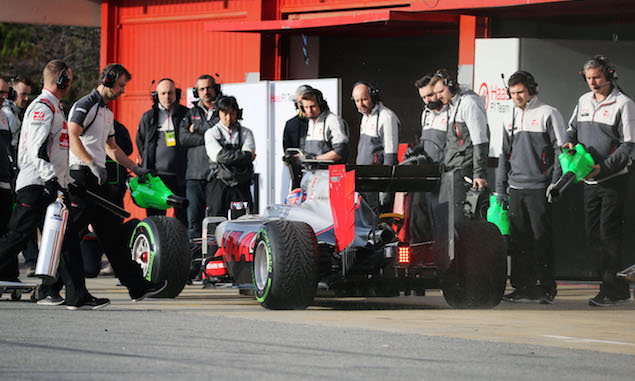 Guenther Steiner says Haas needed to understand the reasons for its turbo problems on Wednesday rather than just find a quick fix.
Esteban Gutierrez completed just one lap on the second day of the final test as concerns relating to the turbocharger confined him to the garage for the rest of the day. Team principal Steiner says the complex nature of the cars make such a problem time consuming as Haas wanted to learn the reasons for the issue.
"We should be firing up the engine in the next couple of hours," Steiner said. "It is getting fixed. These cars are so complex everything takes so long. First you need to analyse what went wrong and that takes hours. Taking it apart it takes hours, put it together it takes hours. It is very difficult.
"We changed the turbo last night and then this morning there was an anomaly, Esteban went out for the installation lap and it didn't do what it should be doing. We couldn't just change the turbo, we had to analyse and think... That was that, we had to change it again."
Following the lost running, Steiner is hopeful Haas will be able to hit the ground running on Thursday morning as a result of its analysis.
"We will just have to try and get a race simulation in and get as many laps as possible to learn what the car is doing and what other problems we have. The main aim is to get as many laps in as possible. Depending on how tomorrow goes is how we go on Friday.
"It's not a weekly plan, it's an hourly plan, so we could change tact every hour depending on how we go tomorrow. Maybe we can be confident we have analysed the problem and made the fix, but you never know what is coming next. I think we will be good to go again tomorrow."
With Gutierrez having only completed 24 laps over his final two days in the car, Haas will revisit its driver schedule is Romain Grosjean enjoys good mileage on Thursday.
REPORT: Bottas fastest on day two as Haas problems continue
GALLERY: Second Barcelona Test
Keep up to date with all the F1 news via Facebook and Twitter