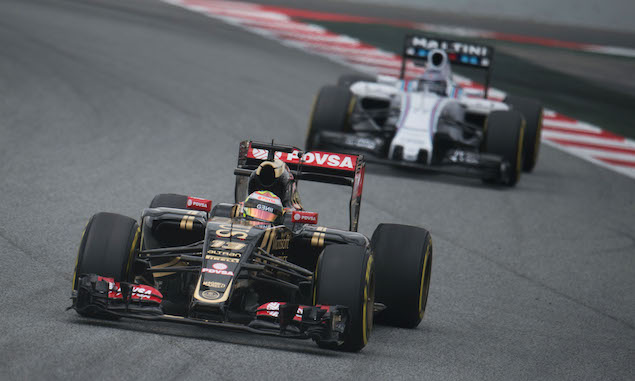 Pastor Maldonado has hailed the "impressive drivability" of the new Lotus E23 after he topped the timesheets on day three of this week's Barcelona test.
The Mercedes-powered driver clocked the fastest time overall on the supersoft tyres during the afternoon session, while also racking up significant mileage as he covered 104 laps. Maldonado could have actually completed a race simulation but for a light drizzle that forced him and Lotus to abort their original plans.
"The most impressive thing of the car is the drivability," Maldonado said. "I think the team has done an excellent job in terms of installation and the new parts. All seems to be working quite well, which is encouraging.
"From the driving point of view, it's looking quite good … The car is quick, I don't know how quick it is compared to the others, but it's quicker than last year, it's easy to see."
Having already set the pace on the opening day of Barcelona testing, Maldonado made it two out two at Circuit de Catalunya. And the 2012 Spanish Grand Prix winner is confident there's even more to come from the E23.
"For the set up and the car, there's still a lot of to do. I think we're not at the top of the car's potential. We need to learn and work harder and harder. The team is doing various things, [following] precise plans, and it's quite positive.
"We are at the top [of the timesheets] at the moment, but it's the way how we are at the top. Everything is flowing much better than last year without any problems… The car is reacting to the changes, which is quite fair. And we're working very hard to try to improve."
Full times and day three as it happened.