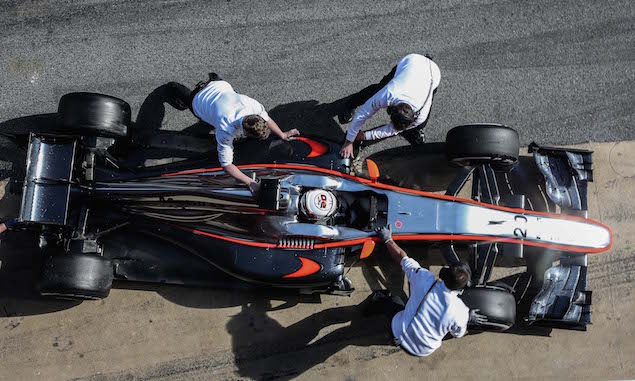 Jenson Button has said he agrees with former McLaren driver Juan Pablo Montoya's complaints that too many sensors are having an adverse effect on the sport.
Montoya, who competed in Formula One from 2001 until 2006 before moving back to the US to participate in NASCAR and IndyCar racing, recently pinpointed the plethora of sensors on a modern day F1 car as one of the biggest problems facing the sport.
"If you take away the tyre sensors, the temperature sensors, and just leave the pressures, the racing will get better by 10 per cent straight away. I'm certain of that," Montoya told F1's James Allen last month.
Asked what he thought about Montoya's comments, Button had a somewhat surprisingly direct answer.
"I agree with Juan Pablo, which is very unusual – but I do agree with his point," Button replied. "Juan Pablo, when he raced [in F1], obviously there weren't any sensors because we were both racing then.
"For us when we got into F1, it was about learning about the tyres, it was about finding your feet and learning stuff for yourself to use.
"It wasn't about the team telling you about how hard to push through one corner and how hot the tyres are getting through another. You had to feel it yourself. For me, that was a lot more fun.
"There is a lot more information on offer now, which you are going to take if you are a new driver. But, for me, it was an area where you could work and improve yourself, and you could do a better job than other drivers and it could make a difference. Now it is not the case."
Button's current team mate at McLaren in 2015, Fernando Alonso, also indicated that he felt the technological aids were stifling competition in Formula One in a wider way, rather than just on the track at any given race weekend.
"We had some freedom in terms of testing and in terms of improving the car as well," he recalled. "You found your car is not competitive in the first quarter of the season and then you have some solutions in plan and maybe you ended up the year in a competitive way.
"Now, having more sensors or less sensors, the Mercedes will win all of the races and Manor will be last in all of the races.
"It is not the amount of information we get, it is just we have our hands tied for the season. When we put the car in Barcelona or Jerez for the first test, it is a coin in the air. If it is competitive, you will have a good season. And if it is not competitive, you will have a bad season."
The next Grand Prix at Spa-Francorchamps will start to see some of the modern driver aids being removed from the cars, beginning with the banning of launch controls designed to help drivers get a good start off the grid when the lights go out.
F1 drivers have too much information believes Montoya
Click here for a lighter look at some scenes from the Hungarian Grand Prix
Keep up to date with all the F1 news via Facebook and Twitter