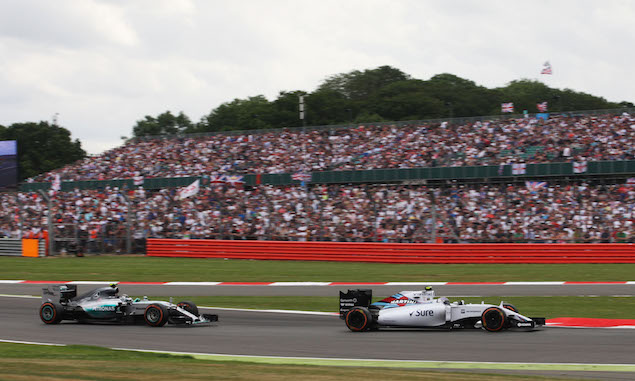 Mercedes boss Toto Wolff admits he was surprised by some of Williams' tactics during the British Grand Prix.
Felipe Massa took the lead at the start of the race and Valtteri Bottas overtook Lewis Hamilton for second place during a safety car restart early on. With Bottas looking the quicker of the two in the first stint, the two drivers were told not to race each other, and Hamilton managed to jump both to take the lead at his first pit stop.
Wolff admits it is not easy to make strategic decisions when leading a race with a car that is under pressure, but believes Williams should have at least split its options.
"Sometimes I had a little bit of deja vu like us in 2013 when we found ourselves in P1 and P2 and you are surprised and you don't want to risk the team result," Wolff said. "It's very difficult to expect bold calls and probably Valtteri would have built a gap if they had let him go.
"That was one thing and the other thing was that when the rain hit we split the strategies with Lewis pitting and Nico [Rosberg] staying out and they didn't do that. But it's so easy from the outside to say what they should have done. I'm not in there and they were probably caught on the wrong foot."
And Wolff admits Mercedes attempted to trick Williams with a fake pit stop early in the race, which he knew had failed due to a message from his wife, Susie.
"We know that Williams has more difficulties in keeping the tyres until the end and we knew that triggering an early stop on lap 18 would make them think if they were able to do that and trigger them into a pit stop that would have caused them problems at the end. So it was a bit of a game, which didn't function. My wife sent me a Whatsapp saying: 'You guys think you can fool us? Hahaha'. So it was worth at least the entertainment."
Click here for F1i's driver ratings from the British Grand Prix
Keep up to date with all the F1 news via Facebook and Twitter