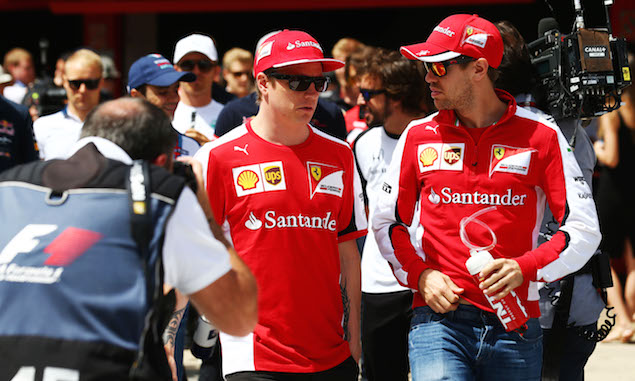 Kimi Raikkonen says his partnership with Sebastian Vettel is good for Ferrari, as speculation continues regarding his future.
Valtteri Bottas and Daniel Ricciardo have both been linked with Raikkonen's seat in recent weeks, with an option yet to be taken up by Ferrari for 2016. With Vettel saying he is able to learn a lot from his current team-mate, Raikkonen believes the pairing is a good one for Ferrari.
"I think we are working well together and have a similar idea of things and what we want," Raikkonen said. "Obviously that helps for the team and we can work in a normal way."
Having finished FP2 for the British Grand Prix in second place, Raikkonen says he struggled on the harder compound tyre and is looking for improvement on Saturday.
"We try to do the maximum well in a practice as any Friday. Some days it goes a bit better and that depends on the circuit. It was not an easy day but I think we learned a bit. We still have to improve things and try to make it a bit more straightforward.
"On the hard tyre I had a hard time for whatever reason – if it's just the one set or if it's the hard tyre that is tricky here. But on the medium it seems to be pretty OK for one lap. We obviously we have work to do but it was a messy session because of the issues with the hard tyre. But it's a Friday."
Click here for the F1 drivers' girlfriends gallery
Keep up to date with all the F1 news via Facebook and Twitter