Fernando Alonso sits down with F1i to talk about the way F1 has changed during his career and what he is hoping to experience in the sport in future
Fernando Alonso will enter the third and final year of his McLaren-Honda contract in 2017. As a double world champion at the age of 25, and as someone rated so highly by many in the paddock, the fact that his current championship tally still stands at two does not tell the full story of his quality.
The Spaniard has made clear on many occasions his goal remains to win a third title, but as one of the most experienced drivers on the grid he also carries strong opinions on where F1 should be heading in future. Alonso will see team-mate Jenson Button effectively retire at the end of 2016 and look forward to life away from the constant spotlight F1 brings, and Alonso says a driver's talent does not wane with age under the current regulations.
"I don't see it like other sports that maybe the physical situation is so relevant," Alonso tells F1i during an exclusive interview. "Here it is just about the machine, about the car, so I don't think there is a peak and then you go down. Here is just a normal progression line and you get better every time.
"If you stop one day I don't think it's because you're slower, it's because you're tired. Tired of travelling, of media, when you expose your life for 20 years - you've been in the newspaper for 20 years, you've been on television for 20 years - maybe you want to stop that because real life is on the other side of that box. So you stop because of that, not because you are four tenths, three tenths or half a second slower than 20 years ago."
Perhaps slightly worryingly, when asked if winning prevents a driver from feeling tired of the sport, Alonso replies: "No, I don't think so.
"We saw with Michael [Schumacher] he was 37 when he first retired and he was winning, he was fighting for the world championship until the last race with me in 2006 and decided to retire. It's because you start at 19 or 20 in Formula One and at 37 then 17 years of your life are totally dedicated to the sport.
"There's not a single day when you don't do breakfast thinking about what you're eating. There's not a single day when you do something not thinking that you don't want to be hurt because the race is next weekend. So it's all your life dedicated to the sport, so even if you're winning there's a point when the temptation to have a normal life will arrive."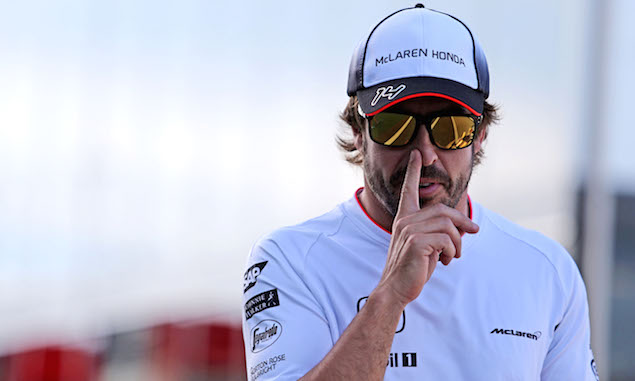 One aspect which Alonso clearly feels is different compared to when he entered the sport is how easy it is to succeed quickly, with drivers such as Max Verstappen and Lance Stroll jumping from F3 to F1 in their teens with little single seater experience and in Verstappen's case being on the pace immediately.
"When I was a kid, very young in go-karts, I was eight years old or nine years old and I always watched Ayrton Senna and Alain Prost fighting with that McLaren-Honda, red and white. That was my first memories of someone inspiring me to become a driver.
"Then when I was in smaller categories it was Michael's time, so definitely when you arrive and you see Michael Schumacher in the paddock it is big respect. Then one day you're on the same track as him, when I made my debut. Then you are in the same picture with him and you are in the same drivers briefing with him and there are many steps you do in your career and you respect many people a lot. Everyone.
"Giancarlo Fisichella and Jarno Trulli, I was racing go-karts in Italy so they were the last big champions in go-karts and then they were racing in Formula One. They achieved that goal of racing those amazing cars that are out of physical limits and they are very prepared, they train every day, they fight, they sit on the podium because they are completely exhausted after the race.
"It's something that when you are in Formula 3 or something you never imagine you would be there one day because for Formula One you need a lot of things, you need a lot of talent but you need a lot of preparation as well. Right now I don't think you need that talent and definitely you need no preparation."
While Verstappen's driving has often come in for criticism from more experienced drivers, Alonso admits he too was always keen to stamp his authority against established names in F1 from an early age, and was encouraged to see his main rivals rattled by his approach, off-track at least.
"You're still respecting [Schumacher] in the same way and you're still surprised by racing with him on the same track at the same moment and fighting wheel-to-wheel. Then you start to know the driver character or the personality with time so you start … not playing but you start knowing each other a little bit more.
"So when you are in a press conference or you are on a podium you know how to act a little bit just to make him nervous or something like that. We are all playing a little bit and they are doing the same with you.
"Nothing really special, I just tried to be very firm and very self-confident in every press conference and every podium because that seemed to affect [Schumacher] a little bit. He was always doing bigger celebrations after a victory in Spain or in a race that was important for Renault. He was overcelebrating compared to any other race, so you know that he is doing that because he wants to make you nervous or something like that. So we started to know each other a little bit more."
Schumacher may no longer be racing, but the only other drivers to have won titles since Alonso entered the sport - Kimi Raikkonen, Lewis Hamilton, Jenson Button and Sebastian Vettel - are all still on the grid. Having debuted in the V10 era and won titles with both a V10 and V8 engine in the back of his Renault, Alonso admits many experienced drivers have seen that experience negated by the current direction in F1.
"Definitely we have to change a lot with the current regulations. And also I think it helps the new generations to come to Formula One because if you do a lot of simulator, if you do a lot of PlayStation, now the cars are so slow and so delicate to drive that it's about that kind of feeling that you can get on those tools.
"Whereas before, Formula One was just for heroes and for big men. You need to eat a lot if you want to drive a Formula One car from 2004 or 2003 at 15, 16 or 17 years old - or even 20 years old - you need to eat a lot. And now you are ready in winter testing already because the cars are half Formula One."
As critical as Alonso sounds, he still believes the standard of driver in F1 is as high as it was when he first entered the sport, with one of the biggest reasons being because he feels drivers have to - and often do - perform immediately or be thrown on the scrapheap.
"I think still the best arrive in Formula One, but they don't need time to learn the category. They don't need time to get 100% out of the car, they don't need two or three years to be physically very strong to finish every single race at 100%. They don't need the neck or anything, they can be 100% in race two.
"So for this I mean they need less preparation but I still think the best always arrives in Formula One and they show in smaller categories they are winning the series. And then when they arrive in Formula One they deliver, because if someone arrived in Formula One and they didn't show it then after two or three races they change the driver. You have to race in Formula One and deliver the results that teams are expecting because if not then you will not race for long."
While the 35-year-old is clearly unhappy with the way F1 currently is in terms of driving pleasure, he is not ruling out remaining in the sport for a number of years to come.
"Let's see. It's not a problem of age. Michael came back at 41, Kimi was just 37 the other day so still many years in the pocket to keep racing but you need to feel the adrenaline driving and you need to feel pure driving.
"Right now I feel that when I go to a go-kart circuit. I take the go-kart and I do whatever lap-time, say 55 seconds. I do 55.0, 55.2, 55.2, 55.1, 55.2, I can do 18 laps in one or two tenths. Here [in F1] I do 1m30s, second lap 1m32s, third lap 1m36s, then you change tyres and you do 1m29s.
"You cannot drive as your instinct tells you. We are driving to save everything. We are driving to save tyres, we are driving to save fuel, to save the battery, so that's a little bit frustrating right now how the sport is. Next year a lot of these problems the promoter understood, the teams understood, they listened to fans, they listened to drivers, so they made big changes for next year. There are a lot of hopes of coming back to a more exciting driving and a more exciting Formula One, so let's see how it goes."
But don't think for a second that Alonso is putting anything above winning in F1 again when it comes to his list of priorities.
"Well, I think you always want to win," he says, given the choice of enjoying next year's regulations or winning in F1 in its current guise. "Even in a tennis match or in a go-kart race, so that will always be the choice.
"But I think for the good of the sport and the future of the sport I really hope it changes a lot next year. Not only from the personal side but also for many years to come in the sport."
F1i Classic: Brazil 1991 - Senna's pain and glory
51 wins: Hamilton, Prost and Schumacher
FEATURE: Foul Play or Foul Language
Keep up to date with all the F1 news via Facebook and Twitter