Honda motorsport boss Yasuhisa Arai talks F1i through the engine manufacturer's hopes and plans for its second season with McLaren
Click here for Honda's reflections on 2015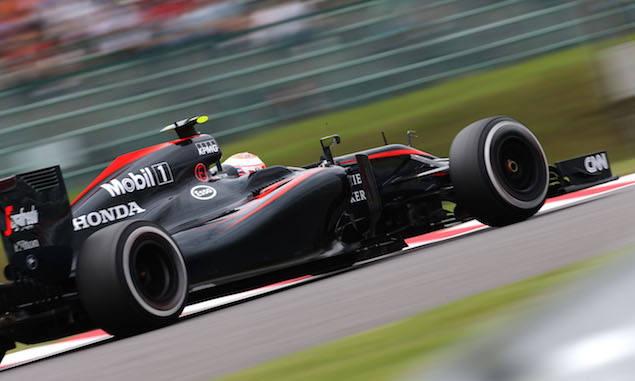 How much progress can the power unit make this year? Gradual like last year or a big step?
"We have a few issues. One is reliability and another is deployment. The concept is fixed and now testing the MGU-H and turbo, but we need time to confirm the reliability at the same time. So we have three months [between 2015 and 2016] but we need more time to see how it goes."
The current regulations do make it hard to improve so do you feel there is a limit to what you can achieve over the winter?
"So the token system is a good system to reduce the cost because the areas for development are limited. But if you have a big gap it is very difficult to catch up. But we discuss it with other suppliers and the FIA so next year we have the same token numbers. I think that's enough for everyone. So now it's not so difficult to change big items."
If you were left to your own design, would you have gone with the 'size zero' design or do you think there is more potential in a different power unit layout?
"Size zero was our layout finalised by talking with McLaren, but Honda produces many road cars and we have the motto: 'Man maximum, machine minimum'. That is our basic philosophy, so we do that."
Are you going to change the layout of the V to fit a bigger turbo?
"Not such a big change. Still a compact layout, but I know that we need a bigger size of turbocharger. So keeping the concept but changing the inside of the chamber or making any part smaller is a big target."
Was the size the biggest problem of making the turbo efficient or were there other problems as well?
"The size led to the inefficiency. The size is small so the engine needed high pressure air. So that means the high rotation - 120,000rpm - is the limitation."
Mercedes had a new fuel which helped improve performance when it updated its power unit in Monza. How closely are you working with Mobil1 to improve performance?
"Very closely. We discuss with Mobil1 directly. Of course it is one of the big partners but from the R&D side - our R&D and Mobil1's R&D - we have very big discussions. They made many kinds of fuel which we tested many times to realise what is the best way and the best solution. Day-by-day, every week, every month, we keep doing that."
Is that an area where you still see potential for clear improvement?
"I think so. At the start of the fuel development it was a steep improvement curve, but now it's levelling off a bit. I assume that every other team may have similar issue. Fuel is now very sophisticated, however I'm sure that there is still room for improvement in the future. So we will to continue to make the effort because it is important to keep pushing fuel performance to improve horsepower"
You came in to F1 to win and challenge Mercedes, does it feel like it will take longer to get there than when you first came in?
"Honestly it is still far away but we should watch the opposition and always want to catch up. We will work so hard to do that."
What are the realistic targets for next season from the position you are in now?
"We want to solve the ERS issues and also the reliability issues before Melbourne. That's technically. And as a team, very honestly, we want to enter in to Q3. That's being very honest."
Do you feel it will be two years until you can talk about podiums and wins or will it be even longer?
"You know that before the winter tests [in 2015] I said some things about podiums and everyone said I had a big mouth! I hope we can get to the podium but I can't say right now when or what race. Everyone - not only me - hopes to be in a good position. So the first step is to get in to Q3, that's the first step."
What encourages you for 2016?
"To compete with the other teams and encourage our fans and stakeholders. Inside the team our team wants to compete with the other teams."
Feature: What happens on any given F1 Saturday?
F1i classic: Jim Clark's last wins
Technical preview: What changes in 2016?