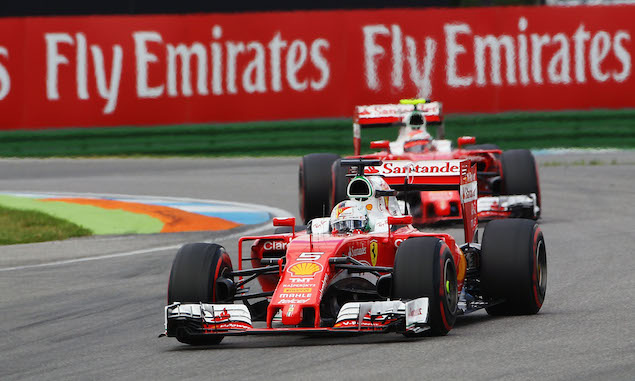 Ferrari president Sergio Marchionne says one of the top-priority items on the Scuderia's job list is to address its deficit in terms of aero and chassis development in order to recover from a second winless season in three years.
Ferrari failed to build on a promising 2015 campaign that had seen new recruit Sebastian Vettel secure three victories.
Having entered the year as Mercedes' nearest challengers, the Maranello-based outfit ended up falling behind a resurgent Red Bull team to finish a distant third in the Constructors' championship.
Ferrari, which saw technical director James Allison leave the team over the summer, has been well aware of its shortcomings, with Marchionne already pointing to a lack of chassis gains during the season at the German Grand Prix.
"The most important recognition that the team has made during this season is a clear identification of the gaps we have in terms of two things: one is honestly performance on track, but, more importantly, I think about the rate of change of the other teams," he was quoted as saying by Motorsport.com during the Ferrari Mondiali 2016 in Daytona.
"I think we have seen a Red Bull at the start of the 2016 season that did not have, at least on paper, the attributes to try to take on Ferrari. And by the end of the season, Red Bull did effectively become a viable competitor.
"It was not due to the power unit side, it was down to the work that was done on both aero and chassis. And it's pointed out probably one of the most significant holes in the strategic development of Ferrari in the last few years. We will try to remedy that problem."
Marchionne also insisted that Ferrari can not afford to rest on its laurels on the engine side, especially with the end of the tokens system allowing the likes of Renault and Honda to close the gap more quickly.
"That's not to say we don't consider the power unit to be crucial, work continues on both fronts," he added. "But I think the biggest issue is that we need to recognise from the 2016 findings is the gap that exists on aero development and I think we are trying to close it as quickly as we can."
FEATURE: Nico Rosberg in numbers
Mercedes: The candidates to replace Rosberg
From the cockpit: Felipe Nasr on his second set in F1
F1i Classic - Bowing out on a high
Silbermann says... Respect to Rosberg
Keep up to date with all the F1 news via Facebook and Twitter