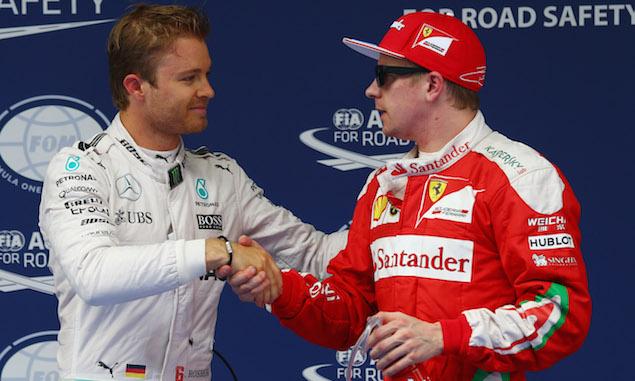 Nico Rosberg was better than Lewis Hamilton in 2016 and fully deserved to win the drivers' championship, according to Kimi Raikkonen.
Sunday's Abu Dhabi Grand Prix saw Hamilton take victory but Rosberg secure the second place he needed to win the drivers' title for the first time. Raikkonen was champion for Ferrari in 2007 and when asked if Rosberg - who won nine races to Hamilton's ten - deserved the championship, the Finn replied: "For sure.
"He scored more points, so I don't understand why he wouldn't deserve it. They had the same car, Lewis and him, and he came out on top, so fair play, he was better this year. It's as simple as that."
And Raikkonen also defended Hamilton's tactics in the race, with the leader managing his pace to try and leave Rosberg under pressure from Sebastian Vettel and Max Verstappen behind. Mercedes says it is yet to decide whether it will take any action against Hamilton for ignoring team instructions to speed up, but Raikkonen believes "it's part of racing" and did not have an impact on the final result anyway.
"Obviously it's not my business and it didn't really change anything. I don't know if they were going full speed or not, but it's not my business, it's theirs.
"It's racing. It didn't affect the final result, I don't know how much was being done. I don't know and the end result didn't change one bit. It's part of racing and if it gets completely ridiculous, I guess there would be Stewards involved. But as far as I saw, there was nothing, really, it never really got close. It's part of things."
Abu Dhabi Grand Prix - Quotes of the week
DRIVER RATINGS: Abu Dhabi Grand Prix
Nico Rosberg: How the 2016 drivers' championship was won
Jenson Button's F1 career: 17 seasons, 15 wins
Keep up to date with all the F1 news via Facebook and Twitter