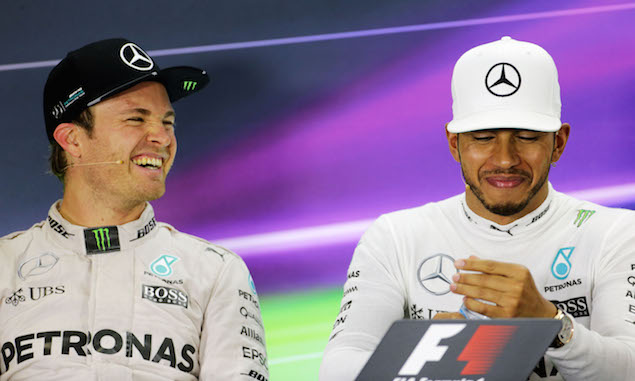 Toto Wolff thinks Mercedes should be given credit for having let Nico Rosberg and Lewis Hamilton race for the past three years despite the sometimes rocky relationship between the two of them.
The 2016 Drivers' title once again came down to a duel between F1's best frenemies, with Rosberg eventually defeating his nemesis by finishing second at the Abu Dhabi Grand Prix.
Hamilton went down swinging though, as he deliberately held up his rival so other cars could overtake him despite repeated calls from the Mercedes pit wall to pick up the pace to avoid being vulnerable to a charging Sebastian Vettel.
Fielding a number of questions on the team's decision to give out instructions after the race, Wolff feels Mercedes' results since 2014 - 51 race wins for three championship doubles - vindicate the German manufacturer's approach.
"[We have] let them race over the last three seasons without interference, and I think the team deserves credit for letting them race and not have decided to not have had a number one and a number two, because that's the easiest solution.
"It was clear we would only interfere if our number one objective of winning the race is under threat. You can be philosophical, wondering whether such a particular situation of a world championship to be won or lost for a driver, you need to forget about those principles that have helped us these last four years.
"But then on the other side does that mean only for the deciding race? Or does it mean straight from the beginning? Because Melbourne could be the deciding race at the beginning of the season.
"You could say let them off the leash and full steam ahead, provide great entertainment, fantastic headlines like we have had I guess, but [that would perhaps mean] less race wins and maybe less championships. I'm prepared to have the discussion. Because I'm just not sure yet."
Despite Hamilton saying in the post-race press conference that he had the race under control, Wolff insists his slow pace could have jeopardise Mercedes' 19th win of the season.
"Sebastian was on much fresher super-softs and at a certain stage our models showed us that he would win the race with a bit of a gap. I remember we were in 45.9s and he was doing 43.7s.
"So our very clever guys, who have won us many races with strategy said this is a race that we were going to lose because even if he accelerates his pace Sebastian's tyres are in a much better state, and if you start to rely on your gut feeling and not on the science then you've lost anyway."
2016 Abu Dhabi Grand Prix - Driver ratings
REPORT: Hamilton wins, as Rosberg takes title in Abu Dhabi
Jenson Button's F1 career: 17 seasons, 15 wins
Silbermann says ... Parting gifts galore
Keep up to date with all the F1 news via Facebook and Twitter