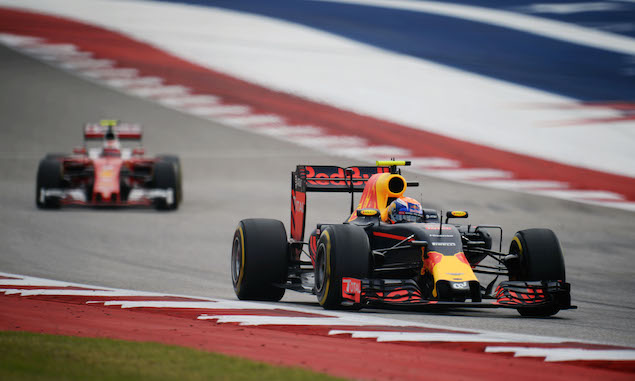 Max Verstappen says the team radio messages broadcast on television make him sound arrogant after his comments to Red Bull in the United States Grand Prix.
When told to look after his tyres when attacking Nico Rosberg to ensure he could complete the required stint length, Verstappen replied: "I'm not here to finish fourth".
Asked if the comment was relating to the fact he can't push on the current generation of Pirelli tyres, Verstappen replied: "I think I am going to take my radio button off!
"No radio for me anymore…! As a driver I always want to go forward, I want to win, so I was trying to get past. I did it with Kimi [Raikkonen] as well because that was like I arrived and got past, but with Nico it didn't really work out. At the end of the day, I did damage my left front a bit but it was not that bad.
"The thing is, all the time I press my radio button it is broadcast and sometimes it sounds a bit arrogant – especially the 'I'm not here to finish fourth' – and that is just what comes up in my mind.
"I am not there to finish fourth at the end of the day, I am there to win as a racer but on the radio it sounds I am arrogant and not listening to the team, but it is not like that."
Verstappen also explained how his poor pit stop came about in Austin, with the Dutch driver having pitted when his team hadn't called him in.
"You always have a bit of code messages and we spoke about some things. The main thing was I think after driving an hour in the car, you get into a comfort zone, an auto-pilot, so I saw Daniel box the lap before so I thought because we were so close together I would box the next lap. I think that is where it went wrong. I was thinking a bit too much for myself."
Following the race in Austin, Helmut Marko said Verstappen needs to find a better balance between attacking and being patient, but the 19-year-old shrugged off the comments.
"To be honest, I don't know. Things have been going pretty well. You always learn, but as a driver this season I think I have been pretty consistent."
Chris Medland's 2016 Mexican Grand Prix preview
Scene at the United States Grand Prix
Keep up to date with all the F1 news via Facebook and Twitter