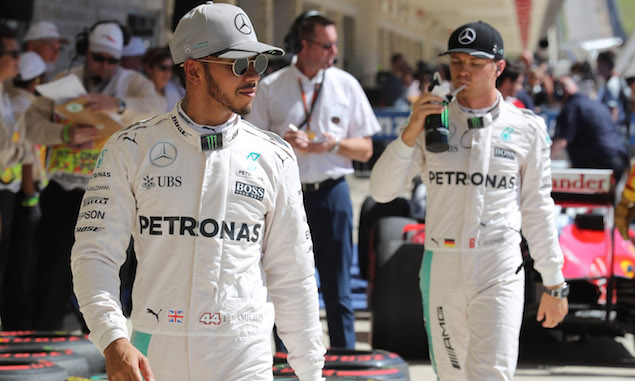 Toto Wolff says he is "really curious" to find out how the two Mercedes drivers will respond to the pressure of their title fight.
Nico Rosberg can clinch his first drivers' championship with victory in the Mexican Grand Prix this weekend, with the title secured if Rosberg wins and team-mate Lewis Hamilton fails to score. The pair have traded strong weekends since Singapore - though Hamilton retired from the lead in Malaysia - and Wolff is intrigued as to how each driver will approach the final three races.
"Lewis produced an impressive weekend all round in Austin," Wolff said. "After Suzuka, he went away, processed everything and came back stronger, which we have seen many times from him before.
"It was damage limitation for Nico, who is in a difficult position. He needs to look at each weekend at a time, which has been very effective for him this year, but also make sure he doesn't DNF. The pressure is on both in different ways.
"Nico was very strong in Singapore, Lewis in Malaysia, Nico again in Japan and then Lewis back on top in the USA. It keeps bouncing between the two, so I'm really curious how it's going to go from here."
And Wolff is also wary of the increasing threat from Red Bull as the season draws to a close, with races in Brazil and Abu Dhabi to follow Mexico.
"Then, there is the challenge from our rivals, which will intensify in the final few races. We were fortunate with the Safety Car in Austin. We had the pace - but Daniel (Ricciardo) in particular was very quick, so there is always a threat. The longer you leave the rules alone the more teams will converge on performance.
"Nothing in particular has changed on the chassis side over the past couple of years, so Ferrari and Renault in particular on the engine side have done a good job to close up to us. The game for 2017 has also already started, so when you throw all these factors into the mix we are looking at an exciting end to this season and the title battle."
Scene at the United States Grand Prix
2016 USGP - Quotes of the week
Keep up to date with all the F1 news via Facebook and Twitter