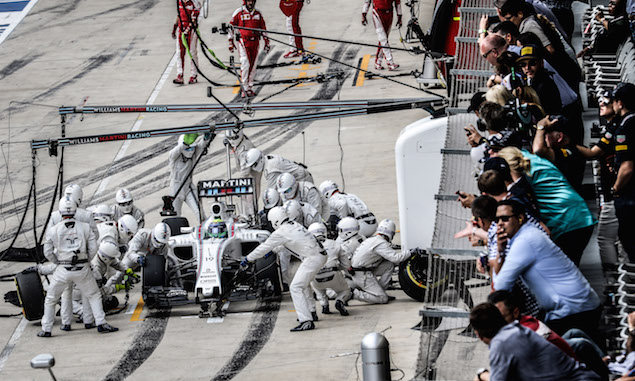 Williams chief technical officer Pat Symonds is unhappy with the FIA's decision not to punish Fernando Alonso for a collision with Felipe Massa.
Attacking the Williams for sixth place late on, Alonso attempted to overtake Massa at Turn 16, with the McLaren on the inside but making contact with the Williams, causing both to run wide on the exit of the corner.
Alonso went on to pass Carlos Sainz for fifth while Massa - who had been following the Toro Rosso closely prior to the collision - picked up a puncture and had to pit before finishing seventh.
The incident was investigated after the race had finished, with Alonso escaping punishment as the FIA said neither driver was wholly or predominantly to blame, but Symonds says Alonso should have received a penalty.
"The FIA have determined it is a racing incident, which I don't agree with," Symonds said. "Look at how Alonso overtook Sainz, he was so far off the track...
"They've decided it's a racing incident. I think Alonso braked so late, even when he hit Felipe he still left the track. Having used Felipe as a brake he still left the track.
"Then he did the same thing with Sainz a couple of laps later. OK, he didn't hit Sainz but he was so far off the track I thought he was going to Mexico early."
With Massa having dropped behind Sainz during a Virtual Safety Car period, Symonds said Williams was confident it would pass the Toro Rosso late on before the Alonso collision.
"Firstly, if it hadn't been for the Virtual Safety Car then it wouldn't have been a battle. Secondly, at that time we were just sitting there. We had a bit of a go at Sainz, it wasn't easy but we could see his tyres were just going down and down and down, so we actually turned the engine back and said 'Let's wait, we'll get him at the end'. Of course, then we weren't there at the end."
Silbermann says ... Taylor should take over F1
Romain Grosjean column: 100 races, now for the wins
PREVIEW: 2016 United States Grand Prix
TECHNICAL - Turbulent Jet Ignition: In the antechamber of F1 power
Keep up to date with all the F1 news via Facebook and Twitter