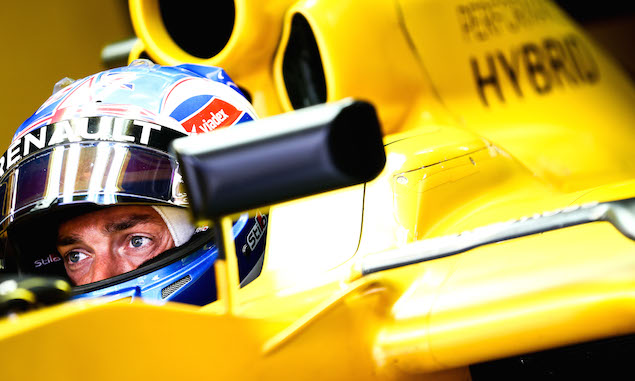 Jolyon Palmer says the current uncertainty over his future at Renault leaves him under "a lot of pressure" which makes his recent performances all the better.
The Briton is awaiting a decision on the 2017 Renault driver line-up but scored his first point in F1 with tenth place in last weekend's Malaysian Grand Prix having shown his disappointment in a poor qualifying at Sepang. Palmer followed that with a Q2 appearance at Suzuka - which was then hampered by a yellow flag in the second part of qualifying - and says his performances under pressure are a boost for his confidence.
"Yeah I think there's a lot of pressure at the minute on both me and Kev [Magnussen] to do the job, and to have a point in Malaysia was massive," Palmer said. "I think I was maybe more gutted after quali because I was driving really nicely in practice there and I didn't get it together in quali.
"But to recover in the race and now to get a good quali here and kind of be quick through all the sessions - I didn't know the track at the start of play yesterday - so I think it's been good. Yeah the pressure is high but to be able to get good laps out and best performances of the year, it's a good time."
And Palmer says an increased level of competitiveness from Renault is welcome as it allows him to show more of his potential at a crucial time.
"I think the fact that we've improved the car and are working the tyres better means that the car is probably more consistent to drive I'd say. Generally we are making less mistakes and we are able to extract more from it.
"You've got that point and you've also got the fact that we are now racing with the teams further up, so we can fight with McLarens, fight with Toro Rossos, fight with Haas, which is a better chance to show what we can do as well and making a difference with the strategy.
"With getting a long stint out, if what I've done in Malaysia, if I'd done that in Austria or Silverstone then no one would have known because probably I'd have ended up 12th or 13th and yeah sure it would be OK but the fact that we could beat the Toro Rosso in Malaysia was good because I got a point and people really noticed it."