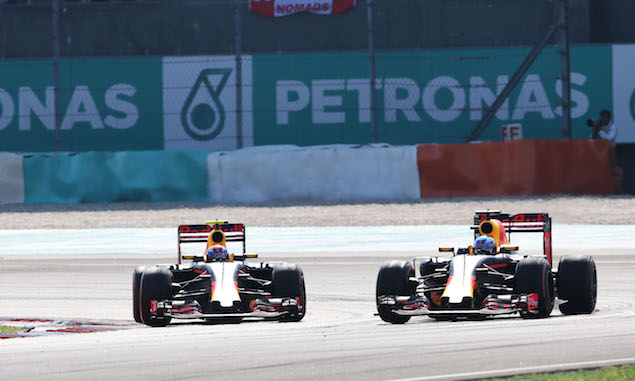 Red Bull team principal Christian Horner says he "felt comfortable" letting Daniel Ricciardo and Max Verstappen racing each other at the Malaysian Grand Prix.
With the two drivers on different strategies, the Dutchman used his fresher tyres to reel in his team-mate with 20 laps to go at Sepang.
The pair travelled through several corners side-by-side with the Australian eventually holding his ground before a second Virtual Safety Car was called due to race leader Lewis Hamilton's engine-related retirement.
"I think that what we've seen is that there is a real respect between the two of them," Horner said. "They are both good racers, hard racers. I felt comfortable letting the two guys go head-to-head today.
"There was no interference, and the instruction was you are racing each other, but just respect each other, which is what we talked about this morning, and give each other space. Some great wheel to wheel racing between the two of them, but at all times they respected all the hundreds of employees that they represent."
Ricciardo's robust defending would prove crucial in that both Red Bull drivers ended up pitting under the second VSC, which put them back on the same strategy for the final laps and enabled the 27-year-old to taste victory for the first time in two years.
While Horner is quick to praise his drivers' handling of the situation, Verstappen was heard several times over the team radio complaining about being held up by his team-mate and hinting at team orders to go and challenge Hamilton.
"We've heard it the other way around as well," Horner further commented. "Those situations you deal with at the time but I don't see it as an issue. Obviously a driver….especially in the world of tyre preservation that we currently live in, it's a big factor of how these guys are going racing at the moment.
"Sometimes, if you are the tail car, you would theoretically be able to push bit harder, but the guy in front, you can see from Lewis early in the stint, is really nursing his tyres."
FULL REPORT: Ricciardo wins in Malaysia as Hamilton retires from lead 
Breakfast with... Gianni Morbidelli
Silbermann says ... Bugged by Liberty
Romain Grosjean exclusive column: Haas can build momentum for 2017
Keep up to date with all the F1 news via Facebook and Twitter