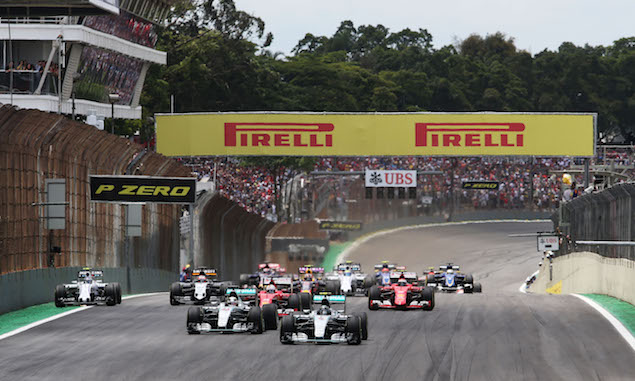 The organisers of the Brazilian Grand Prix say they are surprised to be listed as subject to confirmation on the 2017 F1 calendar.
The race at Interlagos is one of three on the provisional calendar - approved by the World Motor Sport Council on Wednesday evening - listed as subject to confirmation. Following the release of the calendar, the Brazilian race organisers voiced their "surprise" that there is any uncertainty regarding the race.
"The Brazilian Grand Prix Organization, took notice, with surprise, of the 2017 F1 World Championship Calendar which shows the race TBC (to be confirmed)," a press release from the race organisers read.
"There is a contract in place until 2020 every provision of which will be complied with as it has been for the past 45 years."
There is currently uncertainty over the political landscape in Sao Paulo, with mayoral elections due to take place on Sunday, with newcomer João Doria Jr. currently favourite. As well as a new mayor potentially being voted in, the federal government has changed since funding was approved for circuit improvements at Interlagos, with the race also facing a potential shortage of funding itself.
The Canadian Grand Prix and the German Grand Prix at Hockenheim are the other two races which were not confirmed on the provisional calendar.
Chris Medland's 2016 Malaysian Grand Prix preview
TECHNICAL: F1 telemetry: The data race
FEATURE: When F1 team-mates fight for the title
F1i Classic: Sepang 2001 - Ferrari pulls off a masterstroke
Keep up to date with all the F1 news via Facebook and Twitter