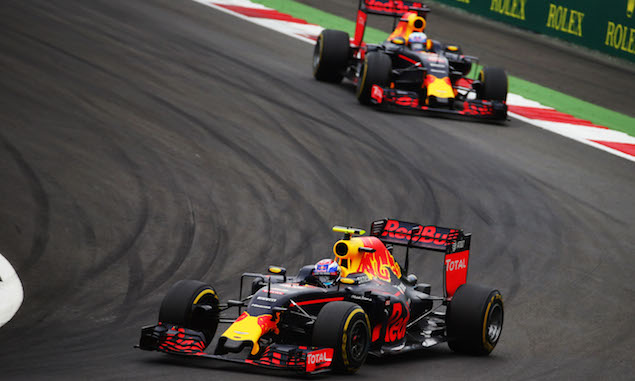 Daniel Ricciardo says he is able to learn from some of Max Verstappen's driving techniques to improve as a driver.
Verstappen was promoted to Red Bull alongside Ricciardo at the Spanish Grand Prix this year, going on to win his first race for the team. Having first joined Red Bull alongside four-time world champion Sebastian Vettel, Ricciardo says there are different things he has been able to learn from each driver in order to improve himself.
"I think with Max and Seb as team-mates it's obviously two different points in their career," Ricciardo said. "But equally you can still learn from both of them. Seb's experience, the way he ... how do I say ... interacted with the team was pretty interesting to see. That was cool.
"And Max is coming in with a lot of youth, a lot of fire and energy. And some new driving techniques which, let's say, maybe the younger kids are doing. So it's interesting to learn from both of them.
"It's cool. I like having as many team-mates as possible, it's great, because the more people you can learn off, the better I think it will make you as a driver."
And Ricciardo is not fazed by the amount of attention Verstappen receives, saying it helps his own reputation if he can beat a driver who is highly regarded.
"I think Max is getting a lot of attention, he's the youngest ever F1 driver and winner. So I get asked about him a lot, as well, but it's not a hindrance.
"For him obviously there's a lot of attention and pressure, but for me, I keep doing my thing. I know he's very talented. If I can get the upper hand on him then it's a bit like with Seb - they're very highly regarded drivers - so if I can just do the job against them then it only helps me out."
FEATURE: When F1 team-mates fight for the title
F1i Classic: Sepang 2001 - Ferrari pulls off a masterstroke
F1i's Eric Silbermann asks what Nico Rosberg has to do to get the credit he deserves
From the cockpit: Felipe Nasr on lights and shadows in Singapore
Keep up to date with all the F1 news via Facebook and Twitter