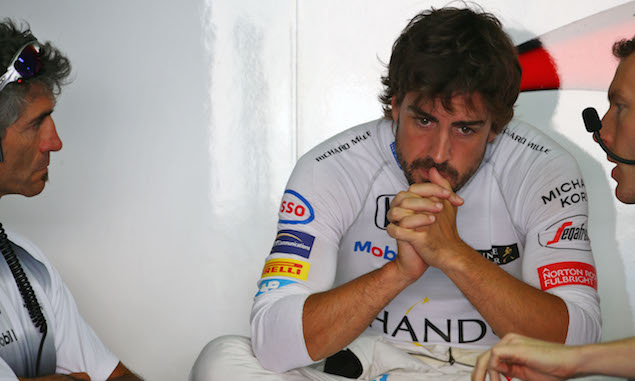 Fernando Alonso says he has to drive for either McLaren or Mercedes if he wants to win a third world championship.
After five seasons with Ferrari, Alonso left at the end of 2014 despite still having two years to run on his contract. His decision was questioned last year as an improving Ferrari won three races as the nearest challenger to Mercedes while McLaren was uncompetitive at the start of a new engine partnership with Honda.
This season has seen further progress for McLaren while Ferrari has failed to win a race as Red Bull moved into second in the constructors' standings and Alonso says he has no doubts he made the right decision to leave the Scuderia.
"I was right," Alonso said. "I was right because I felt I was right. In 2014 I made the decision and had two years more on my contract, but felt I was right to go. Whatever results they achieve in 2015 and 2016 or in the future, for me my time there was fantastic and I wanted to finish on that fantastic feeling.
"Every year was a little bit more stress because you are not winning and it seems that it is your fault. Now it is not a relief that they are not winning or having more problems, I don't wish any problems on Ferrari because it is a team that I will always have in my heart.
"But in terms of driving, how competitive or my third world championship hopes, then you drive for Mercedes or McLaren-Honda. That is my opinion and the feeling from that decision."
Ferrari is third in the constructors' championship with 242 points - 173 behind Mercedes - while McLaren is currently seventh on 42 points.
Scene at the German Grand Prix
Quotes of the week - German Grand Prix
Keep up to date with all the F1 news via Facebook and Twitter