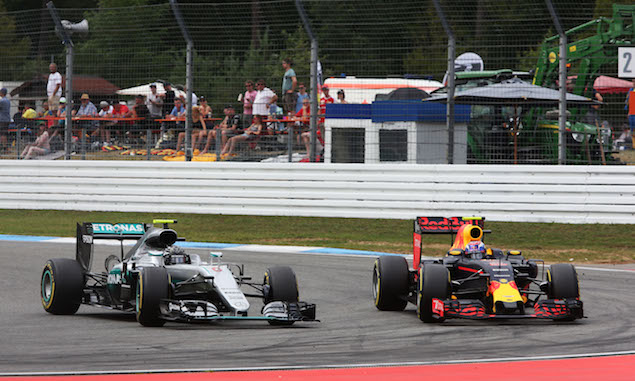 Christian Horner says Red Bull still has "some positive things in the pipeline" in a bid to further close the gap to Mercedes after the summer break.
The Milton Keynes-based outfit has shown impressive pace across races and its double podium finish at Hockenheim last weekend propelled it to second place and ahead of Ferrari in the standings. With Horner's immediate target now achieved, the Red Bull team principal sets his sights on a higher target.
"There has been ebbs and flows but that is where we are in the Constructors' championship at this stage in the year," Horner said. "There is still a long way to go, but the objective was to come into the summer break ahead of Ferrari, and now it gives everybody the chance for a well earned rest before the final nine races.
"There are some races on the calendar that will hopefully be favourable to us. And our objective is to try and close that gap still further to Mercedes ahead.
"We were on average within three tenths of a second of [Mercedes in Germany], and what was really encouraging on that final stint was that Nico [Rosberg] was not able to make any inroads into either of our drivers on the soft tyre."
Despite engine partner Renault not bringing any major upgrade over the second half of the season, and with many resources already allocated to the 2017 project, Horner remains confident that Red Bull still has a few trump cards up its sleeves to mount a genuine challenge.
"We still have a few bits that we can tidy up on the car this year that are in the pipeline that have been kicked off some time ago. There is still progress that is going on with the engine, with drivability. And there are some positive things in the pipeline that hopefully can help us try to reduce that gap yet further."
Quotes of the week - German Grand Prix
2016 German Grand Prix - Driver ratings
REPORT: Hamilton beats Red Bulls to extend championship lead
Breakfast with ... Christian Danner
Keep up to date with all the F1 news via Facebook and Twitter