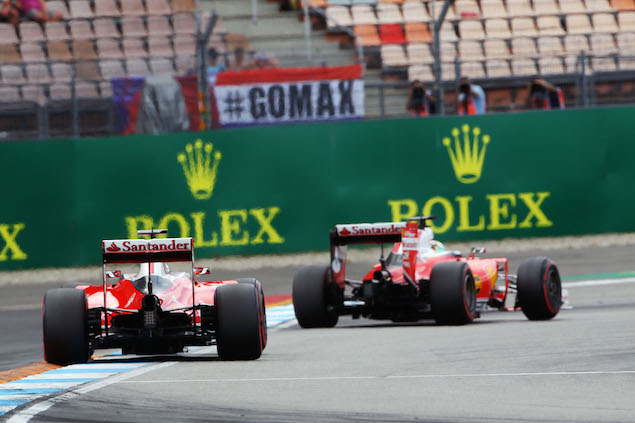 Kimi Raikkonen admits Ferrari's performance at the German Grand Prix was 'a bit painful', with he and Sebastian Vettel unable to challenge the Mercedes and Red Bull.
Starting from fifth, the 2007 world champion was overtaken by his team-mate at lights out and went on to drive a lonely race to claim sixth.
"Everybody can see where we finished, it's obviously a bit painful for all of us but this is where we are right now," Raikkonen said. "We just have to work harder.
"We were just not fast enough – it was as simple as that, unfortunately. It wasn't too bad when we had fresh tyres, but they wore off quite quickly and that's about it…
"It was quite a boring day, in a way, not much happening where I was, so if we can be fast that will obviously make it more exciting."
Having entered this year's Formula One campaign as Mercedes' nearest rival, Ferrari has now slipped 14 points behind second-placed Red Bull in the Constructors' championship following a string of disappointing results. Raikkonen hopes his team can turn its fortune around after the summer break.
"Of course we want to win, so we have to beat everybody and that's always the aim in racing. We were ahead of Red Bull but now they're ahead of us.
"But I'm sure we found some tools and hopefully we can challenge both of them [Mercedes and Red Bull] later on. It's not going to be easy but that's always the aim."
REPORT: Hamilton beats Red Bulls to extend championship lead
AS IT HAPPENED: German Grand Prix
Silbermann says ... Backing the wrong horse
Exclusive Alex Wurz Q&A: GPDA chairman "surprised" by Halo delay
Keep up to date with all the F1 news via Facebook and Twitter