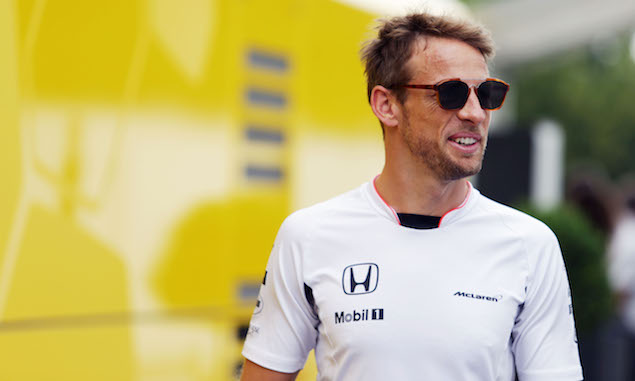 Jenson Button has explained a piece of carbon got stuck in his eye during FP2 which needed removing during a trip to hospital.
The McLaren driver completed just 16 laps in the second practice session before he went to the medical centre due to an eye irritation. He was then sent to Mannheim hospital for a check-up where they removed "a tiny carbon piece" from his eye which he will treat with drops for the rest of the race weekend.
"I was going down the pits straight and something got into my eye," Button explained. "I've had it before, getting a tiny carbon piece stuck into your eyeball, so they had to take it out. It was actually stuck in my eyeball, which was good, so they took it out.
"It still hurts, because it's scratched, so they gave me some eye drops but it's all good. It was probably carbon dust from the brakes and when I had it before they needed to use a needle to take it out; this time that was not necessary, thankfully."
Focusing on his performance before his eye problem, Button is confident McLaren can fight for a place in Q3 and to be the fourth quickest team behind Mercedes, Ferrari and Red Bull.
"I think in terms of qualifying speed we're at the same level as last week, we have to hope to be best of the rest. If we can be behind the top three tops that's not a bad position to be in, before heading into the summer break. Of course I had to stop early because of the problem but the car didn't feel too bad before that.
"The aim has got to be to be right behind the top three teams. I didn't get a good lap with low fuel, when I was 8th quickest, because of traffic, so I could have gone quicker. And I've missed the long run because of my problem, so we'll have to make up for it. The team needed six laps of data on the supersofts, I got just those laps in, so we should be OK."
LIVE: German Grand Prix weekend
Exclusive Alex Wurz Q&A: GPDA chairman "surprised" by Halo delay
Chris Medland's 2016 German Grand Prix preview
FEATURE: Halo: splitting opinion in F1
Keep up to date with all the F1 news via Facebook and Twitter