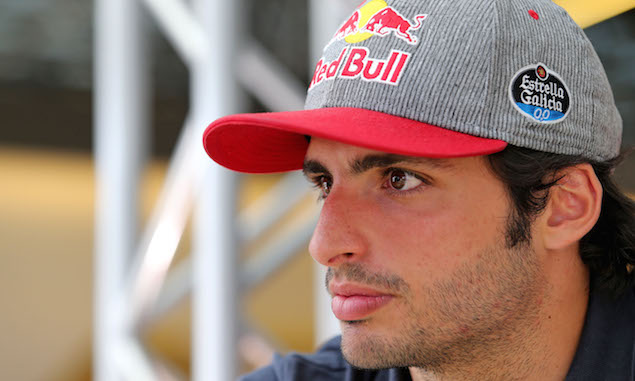 Carlos Sainz believes the F1 drivers are not being listened to by both the FIA and their teams often enough, following the delay of the Halo.
The introduction of the Halo was delayed until 2018 after a meeting of the Strategy Group led to the decision that more drivers need to test the device. Following the drivers' briefing in Germany - when topics such as track limits and driving standards were also discussed - Sainz says the drivers' opinions do not seem to be given enough importance.
Asked what was talked about on Friday evening in Hockenheim, Sainz replied: "Many things, everything you can imagine.
"We talked about it, it was definitely a very long meeting, but I don't know how much they will listen to us or take into their consideration our point of view, or how much of a difference it will make. Hopefully it helps and at least it takes the driver's view into consideration."
Speaking specifically about the Halo, Sainz said the vast majority of drivers wanted it to be introduced in 2017, contrary to team concerns.
"I think there's approximately - if I had to put a bet on now - I would say 80% are in favour, maybe 10% are I don't know and 10% are totally against. But what is clear I think is that every driver should try it or should run it before 2017.
"Every driver should give an opinion and then basically a vote between drivers after running the Halo. I think this is the most common sense thing to do, even though at the end they probably don't take into consideration our vote, which is probably what's going to happen. But at least I think every driver should get a chance to run it and give an opinion on it."
When asked what makes him feel drivers aren't being listened to, Sainz specifically cited the Halo situation as a crucial example where driver opinion has been overlooked.
"My opinion is everyone took the decision to have a protection device in 2018. It doesn't mean it's going to be a Halo, it means the FIA and all the teams are going to work to provide us with a safety component for 2018, but it probably means in 2017 we'll have nothing on the car so it opens the question of what happens if something happens in 2017?
"I think Halo could be - in my opinion - a solution just for one year before the come up with something even more technological, even more advanced. But it's clear for 2017 they cannot bring this. They want to bring it in 2018 but what happens in 2017?
"Then you look back and say maybe we should have had the Halo for one year just as a prevention thing before bringing on the nice-looking, super safe aspect for 2018 that they have promised us is going to happen. It's a question mark that we all have but hopefully it will not be like that and hopefully nothing will happen. But we are all aware of it."
REPORT: Rosberg maintains advantage over Hamilton in FP2
AS IT HAPPENED: Free practice for the German Grand Prix
Exclusive Alex Wurz Q&A: GPDA chairman "surprised" by Halo delay
Chris Medland's 2016 German Grand Prix preview
FEATURE: Halo: splitting opinion in F1
Keep up to date with all the F1 news via Facebook and Twitter