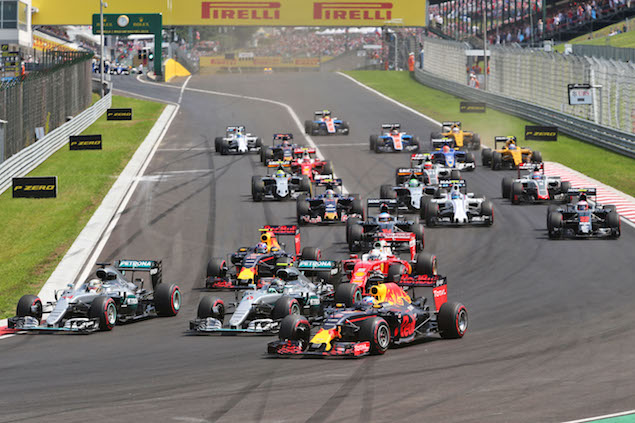 Mercedes motorsport boss Toto Wolff says he was pleased with how Lewis Hamilton and Nico Rosberg fought cleanly at the start of the Hungarian Grand Prix.
The two team-mates have had a history of making contact at the first corner, with this year's series of flashpoints also including taking each other out on the opening lap in Spain and clashing on the final lap in Austria.
Lining up on pole position in Budapest, Rosberg saw Hamilton enjoy a better getaway on the inside. The German resisted but eventually backed out, especially with Red Bull's Daniel Ricciardo also threatening on the outside.
"The start is always worrying when both of them are on the front row but we had a good discussion this morning and you could see the inside clearly had the advantage," Wolff told Sky Sports F1. "Lewis had a bit of a moment but it was controllable.
"You can see that Turn 1 was very sportsmanlike. They managed the pace in the first stint to see how long the tyre would go.
"Even in the second stint, we were worried a little bit that Ricciardo was coming nearer but there was so much pace in Lewis' driving that once he put the foot to the floor, he was jus gone."
Wolff was also happy to see Mercedes score its first victory at the Hungaroring in the latest V6 turbo era.
"It's an important [1-2] because this circuit was a bit of a weakness for us in the past couple of years. We did not win here in 2014 and 2015. It's typically a Red Bull track, or a Ferrari track. So to bounce back like that was really good."
REPORT: Hamilton holds off Rosberg to take championship lead
AS IT HAPPENED: Hungarian Grand Prix
Silbermann says ... Birds on the wire
Keep up to date with all the F1 news via Facebook and Twitter