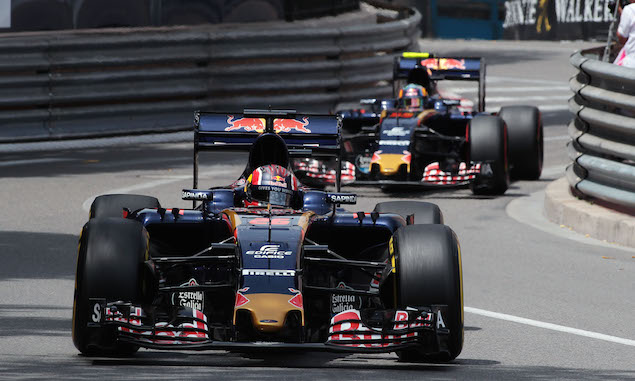 Daniil Kvyat wants Toro Rosso to analyse the way it works in Q3 after a disappointing final part of qualifying for the Monaco Grand Prix.
The Russian was quick throughout practice in Monaco and looked set for a strong qualifying after finishing Q2 in sixth position. However, Kvyat had a poor final run in the last part of qualifying and ended up ninth on the grid, over half a second adrift of team-mate Carlos Sainz.
"It was all good, a very good start, a very bad end," Kvyat said. "I don't know why. I was on for a very good lap in the last part, maybe P5, but I think I hit the kerb really hard at Turn 14 - the Swimming Pool - and I think something broke.
"The last three corners I was just a passenger, I just couldn't turn, so I lost a lot of lap time there and unfortunately it ended up being a shit lap.
"I didn't speak with the engineers, I need to speak with the engineers. First conclusions, but it's only my theory. Just the kerb … the second one. I don't know, something went completely wrong through there.
"We had big potential but when we come to Q3 we are just losing our concentration, we are losing our pace. When people keep improving we make a step back and then we need to catch up again, so it's something that we need to improve together, the whole team."
And when asked if he was happier with his car than he had been in Barcelona, Kvyat replied: "The car does feel a bit better now.
"We were super fast in Q1, Q2 and all the practice sessions but unfortunately when it comes to Q3 we all fuck it up. That's all."
Technical feature: What will the 2017 F1 cars look like?
Daniil Kvyat exclusive: Time to think about life after Red Bull
Romain Grosjean column: 'I want Jules to always be with us'
Silbermann says ... Easyjet-set
Keep up to date with all the F1 news via Facebook and Twitter