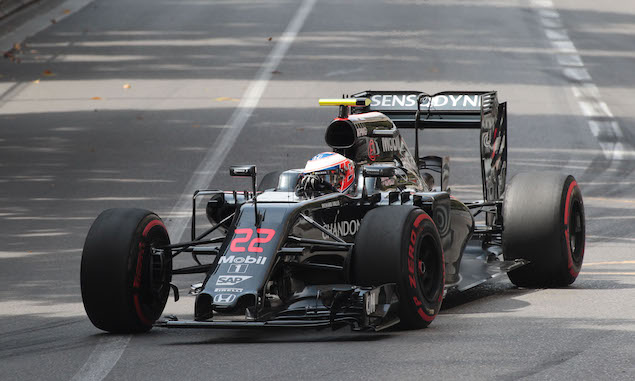 Jenson Button says he was "lucky" to escape injury after hitting a loose drain cover during practice for the Monaco Grand Prix.
The McLaren driver was following Nico Rosberg through Sainte Devote when the Mercedes dislodged a loose drain cover and flicked it across the circuit. With the object bouncing on the track, Button hit it with his right front wheel, shattering part of his front wing.
Explaining the impact on Thursday's running, Button acknowledges the incident could have been much worse.
"This morning was tough and we really struggled for grip, the front end was a big issue for both of us, I think," Button said. "The afternoon was much better, we're getting better, but the day was made a lot harder because of the drain cover, that broke through the front wing, front suspension, brake intakes and we also needed to change the floor.
"The guys did a great job to get me out early in FP2 and we made progress, but there's still a long way to go before we're happily competitive.
"I think we have enough risks and this is a controlled environment – or it should be. I have to say that normally here the safety is very good, in terms of what they do, because it's a street circuit, but that was definitively an incident we don't want to see again here.
"We were lucky in the way it damaged the car, it stayed quite low on the ground, which is good – that's all I've got to say about it."
With McLaren hoping for a strong in Monaco, Button is targeting an improvement in qualifying from the tenth he finished in FP2.
"We were tenth today and we're hoping for a bit better on Saturday. Some other cars are a bit more competitive than what we thought, the Toro Rosso especially, and there's a big gap for the cars in front. But we'll do our best in qualifying and you never know, we might be more competitive.
"I expected more grip from the ultrasofts, they weren't so different from the supersofts, so we're going to work to find that extra grip on Saturday. There are things we can improve and I'm looking forward to see where we end up. The things we can change will move us up the grid, so hopefully we'll be able to improve the car for Saturday."
Ricciardo over 0.6s clear in error-strewn FP2
Romain Grosjean column: 'I want Jules to always be with us'
Silbermann says ... Easyjet-set
Chris Medland's 2016 Monaco Grand Prix preview
Keep up to date with all the F1 news via Facebook and Twitter