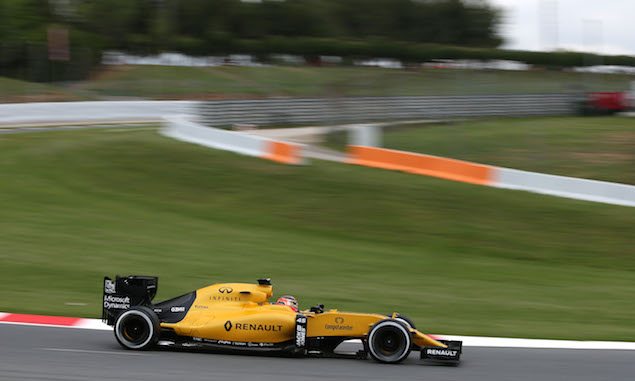 Esteban Ocon believes the Renault B-spec power unit will surprise after testing it on Tuesday at the Circuit de Barcelona-Catalunya.
Renault is testing a major upgrade to its power unit ahead of its planned introduction in Canada, with the manufacturer open to fast-tracking it in time for the Monaco Grand Prix. Having complete a little mileage with the old power unit during FP1 in Barcelona, Ocon then tested the updated version on Tuesday and when asked for his feedback, Ocon replied: "You'll be surprised.
"It's really good, really good ... I can tell it will be quicker for sure.
"You can [feel a difference], I drove a little only in FP1 but you can still, it's noticeable."
And Ocon admits Renault was not pushing the power unit but was pleased with the reliability shown on its first outing.
"For sure you don't push it 100% in the test, but overall the reliability was good, we didn't have any problems, we did 105 laps so it's a really good debut and really good start."
Ocon will switch to drive the Mercedes on Wednesday and he is looking forward to showing more personal performance after so much mileage on Tuesday.
"Looking forward to tomorrow of course, driving again an F1 car I can only be happy. It's probably going to be one of the only times I drive two days consecutively, I did that only in my first test in F1 but that was the old spec.
"It's going to be good to get closer to the limit and also driving for two amazing teams, I can't be more thankful for that."
REPORT: Vettel tops opening day of Barcelona test
AS IT HAPPENED: Barcelona post-race test - Day 1
Spanish Grand Prix - Quotes of the weekend
DRIVER RATINGS: Spanish Grand Prix
Keep up to date with all the F1 news via Facebook and Twitter