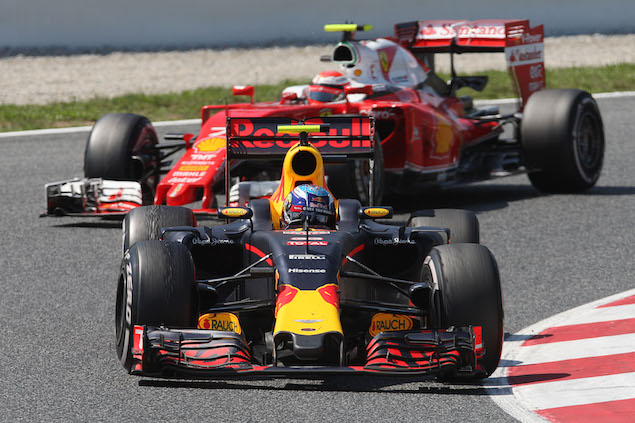 Max Verstappen says the last ten laps of the Spanish Grand Prix felt like he was "driving on ice", with the Red Bull ace nursing his medium tyres to secure a stunning victory in Barcelona.
The 18-year-old became the youngest ever Formula One race winner after making a two-stop strategy work and resisting intense pressure from Ferrari's Kimi Raikkonen for 22 laps. Showing maturity beyond his years, Verstappen cooly explains how he managed to hold off the charging Finn.
"As soon as we pitted [for the second time] I knew we were going to the end," he said. "So the first few laps, I didn't really push. I knew the Ferrari was a bit faster than us today but I just let him catch up and then you're just controlling the gap. Of course sometimes he got DRS so using a bit to stay ahead.
"It worked well until eight laps from the end. We were also catching some traffic and then it was all about managing the last sector really; not to slide too much and get a good exit out of the chicane. You're looking a bit in the mirrors…
"To be honest I knew it was going to be very hard but from there on you know you have to set your mind and try to control the tyres, especially the first ten laps.
"Of course you are not pushing hard on them, you are just controlling it and I have to tell you, the last ten laps, you are driving on ice. Sliding a lot but it's all about managing the last sector and get a good exit. I think that's how a lot of races are won here in Barcelona."
Besides tyre management, the Dutch prodigy, who was making his Red Bull debut last weekend after replacing Daniil Kvyat, admits he also had to deal with emotions running high in the closing stages of the race.
"I think on the last lap I got a bit of cramp. I was getting very excited. I couldn't believe it. I was looking up to the big boards, I saw my name, first, with ten laps to go. OK, I was already first before but then I started to watch the board.
"I was just thinking to myself, don't look at it any more and focus on the tyres and bring it home and that's what we did. A great feeling. I absolutely didn't expect this."
LIVE: Barcelona post-race - Day 1
DRIVER RATINGS: Spanish Grand Prix
Breakfast with ... Claire Williams
Keep up to date with all the F1 news via Facebook and Twitter