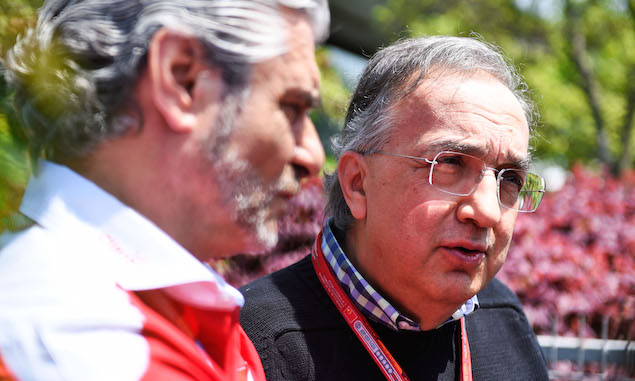 Ferrari president Sergio Marchionne insists his confidence in team principal Maurizio Arrivabene is "beyond any question".
Marchionne increased the level of expectation at Ferrari this year following three race victories in 2015, but so far Mercedes has taken every pole position and won all four races. The difficult start to the season led to reports in the Italian press that Arrivabene could be replaced as part of a senior management overhaul.
However asked if Arrivabene has his confidence, Marchionne replied: "Totally, totally. Beyond any question."
Speaking in the Barcelona paddock on Sunday, Marchionne also reserved praise for the two drivers and says there is no need for change at Ferrari.
"No, I still think we have two of the world's best pilots … We probably have the best pilot. I probably shouldn't be saying this with four drivers in front of us but I think we have great pilots. I think the team is in the best shape I've seen it in a long, long time.
"I think they need to work diligently to fix these issues … I would not make a huge issue of the fact that yesterday we had this out of body experience with operating the car in a temperature window which was not proper. Had we known it we would have done a variety of things differently.
"We're learning and the process has never happened to us, so we'll get better in this."
Despite the poor performance on Saturday - when Kimi Raikkonen qualified fifth and Sebastian Vettel sixth - Marchionne says a discussion with Daimler chairman Dieter Zetsche reassured him Mercedes had suffered the same problem in the past.
"Yesterday afternoon I think we left whatever luck we had, we left elsewhere - it could be in your pants for all I know, but it was not at the track.
"I had an interesting conversation with Dieter about this, Mercedes had a similar issue to this. There's an operating window of temperature for the tyres which as a result of the increase in temperatures on the track this time around … we were not ready, we were caught off guard. Both drivers felt inadequate at the time but there was not much could be done.
"It's going to be a very difficult race. I think having four drivers of the calibre in front of Ferrari is going to make the race tough. That's life, it will happen … things like this happen."
Breakfast with ... Claire Williams
QUALIFYING REPORT: Hamilton leaves it late to take Barcelona pole
Romain Grosjean column: Spain will show the real Haas
Keep up to date with all the F1 news via Facebook and Twitter