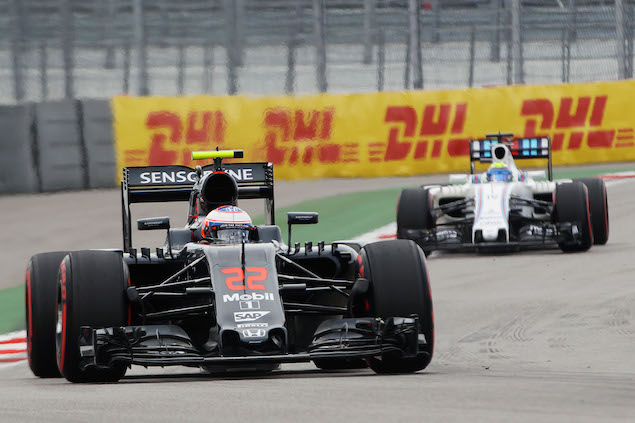 McLaren-Honda star Jenson Button claims he is a better Formula One driver now than when he won the 2009 title with Brawn GP, saying he has gained experience without losing reaction.
The Briton is currently in his 17th season in the top flight, having secured 15 wins and 50 podium finishes. However, McLaren's challenging last couple of years means Button has not tasted victory since the 2012 Brazilian Grand Prix.
Asked by F1i's Chris Medland whether he believes he is a better driver nowadays than during his championship-winning campaign, the Somerset racer candidly replied: "Yes, I do. I've gained more experience, I've found myself in situations where I'm under pressure more, especially in 2009.
"The only way I can judge it is that I haven't lost reaction and I've gained experience. So there's no reason to say anything else, I should be a better driver.
"My fitness is better than when I was 29, I understand a Formula 1 car better than when I was 29 and I've had more experiences. So I should be a better driver."
Having entered F1 as a fresh-faced 20-year-old in 2000, Button is now the second oldest driver on the current grid behind Ferrari's Kimi Raikkonen though his 288 grand prix starts make it the most seasoned veteran. And the 36-year-old insists there is no sign of him slowing down.
"It's not like running 100m, you don't lose pace through 17 years of being in Formula One. You get faster because you gain experience. It's absolute rubbish that a driver is past his best. If he is past his best he retires.
"It's absolute rubbish what people say about drivers that have done over 200 grands prix, that they're past their best, that the new, young, fresh kids are better. Who knows? I mean, they might be, but there's no proof of it yet."
"I don't go out there thinking I've got to beat the young kids, I go out there thinking I've got to beat my team-mate [Fernando Alonso] who is one of the best drivers who has ever driven in the sport. Who still thinks he's the best, as he stated in the media."
OPINION: Why Red Bull is right to promote Max Verstappen