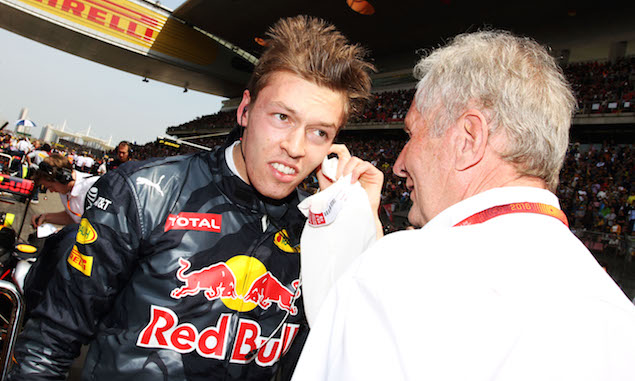 Helmut Marko says the decision to promote Max Verstappen to Red Bull is designed to take the pressure off Daniil Kvyat.
The two drivers will swap seats with immediate effect, resulting in Kvyat racing for Toro Rosso in Barcelona while Verstappen will make his Red Bull debut. Red Bull advisor Marko says Kvyat's performances have not been up to scratch so far this season but insists the team wanted to try and give the Russian driver an environment where he can work to recover.
"It was primarily a measure to take away the pressure on Daniil, which was available this year," Marko told Motorsport-Total.com. "He has not nearly the same performance as last year. He was an average of three to five tenths slower than [Daniel] Ricciardo. Last year he was at eye level.
"But what was much more difficult: He was very inconsistent, had many ups and downs. Sometimes it was good, as was seen in China, but he has put so much pressure on himself that these fluctuations come automatically. The crash in Sochi is a consequence of the internal pressure, which he has built himself, it did not come from us.
"Our luxury is that we have the ability to set him up at Toro Rosso again. Romain Grosjean was once in a similar situation and had crash after crash. We wanted to avoid that."
And Marko admits the move also helps deal with increasing tension between Verstappen and Toro Rosso team-mate Carlos Sainz.
"On the other hand there was considerable unrest at Toro Rosso between Verstappen and Sainz. Thus we have internally resolved several problems and we have not removed Kvyat, but he is still with us in the squad. Toro Rosso is a good midfield team which has the potential, both on the car and driver side, which it must finally implement to be constantly in the points."
Silbermann says ... Red Bull Clips Your Wings
Scene at the Russian Grand Prix