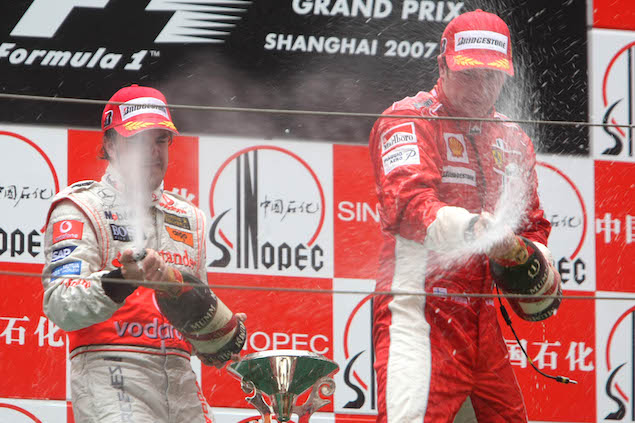 Ahead of this weekend's Chinese Grand Prix, Kimi Raikkonen remembers his classic 2007 victory in Shanghai, which paved the way to him winning the world title with Ferrari.
With two races to go in that year's F1 championship, the Finn arrived in China 17 points adrift of series leader and rookie phenom Lewis Hamilton. The McLaren ace duly claimed pole position, with Raikkonen lining up alongside him on the front row.
Rain swept across Shanghai International Circuit on race day and the Ferrari driver initially ran in second place with Hamilton pulling away in front. But as the grand prix unfolded, weather conditions started to improve and the Briton began to struggle with excessive tyre wear on a drying track.
Having stayed out too long, Hamilton just barely managed to limp back to the pits only to beach his McLaren in a gravel trap by failing to take properly the left-hand corner located on entry.
"There were tricky conditions, it was wet to start with and then the track was drying up, so obviously there was a point to change the intermediates tires and then we got a ride," Raikkonen reminisces. "Obviously not the easiest race to anybody, but we came out quite easily."
After inheriting the lead, the unflappable Finn stayed the course to pick his sixth victory of the season and slash the gap to Hamilton to seven points (the 10-8-6-5-4-3-2-1 points scheme for the top eight drivers was still in place at that time).
Two weeks later, Raikkonen would win the Brazilian Grand Prix in another rollercoaster of emotions to become the 2007 world champion, the most recent from Maranello.
PROFILE: Paddy Lowe, the pioneer