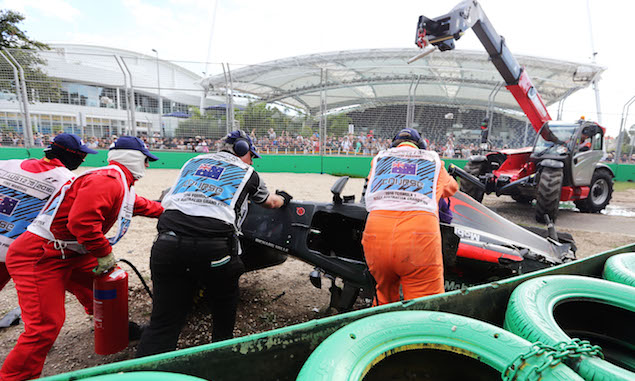 Fernando Alonso says his crash in the Australian Grand Prix should be used as a scenario to test if the Halo concept could have negative consequences.
The FIA is pushing ahead with plans to introduce cockpit protection in 2017 and has singled out the Halo as the preferred concept. Ferrari tested a version of the Halo to check visibility during pre-season testing, but the idea has split opinion among the drivers.
Having hit the rear of the Haas of Esteban Gutierrez, Alonso hit the wall at high speed before his car dug in to the gravel trap and rolled violently before coming to rest upside down against a barrier. The Spaniard managed to climb out of the car unaided, but asked if the Halo concept would have prevented him from getting out of the car, Alonso replied: "Yeah… good point.
"I didn't think of that. We need to think of scenarios and the consequences. I got out of the car quickly and easily and we need to see if there is a difference [with Halo]."
Alonso's team-mate Jenson Button believes the crash should not prompt a rethink of the Halo concept, saying: "There's more safety risk of things hitting our head than anything happening when the car's upside down."
With Red Bull unveiling its own cockpit protection concept during the Australian Grand Prix weekend, the FIA has already said it would not postpone  the introduction of the Halo even if a better alternative was emerging.
Australian Grand Prix - Quotes of the weekend
Australian Grand Prix - Driver ratings
Keep up to date with all the F1 news via Facebook and Twitter