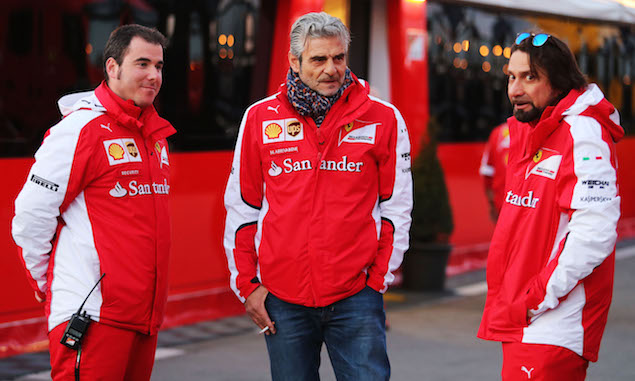 Ferrari team principal Maurizio Arrivabene says it is has been one of his priorities to remove politics from the team.
The Scuderia underwent a major overhaul during 2014, with Stefano Domenicali being replaced by Marco Mattiacci as team principal before Arrivabene himself took over the role at the end of last season. Fernando Alonso left along with a number of high-profile team members including Pat Fry, and Arrivabene says the big changes were done for the right reasons to help the team work better together.
"Step-by-step I think the changes that were made were making a lot of sense," Arrivabene said. "They are helping people to express themselves and their professional skills and to be liberated somehow to express their passion for the team in the work that they are doing. That was the main change.
"The second one is not really a change but for me it was a clear objective to put the team together without any politics, without any parties or people that were hanging around or pulling left, right, up or down. Now they are all looking the same direction and I am quite proud of this.
"The first result is if you go in to the garage now you're going to see that the atmosphere is different. I saw Kimi [Raikkonen] smiling, this is a big scoop! And talking, he was talking! at one stage I was looking at him and I said 'this is not Kimi!' So I said 'Kimi are you OK?' And he said 'Yeah, yeah, I'm OK'."
Click here for the gallery from day four of the second test
Keep up to date with all the F1 news via Facebook and Twitter