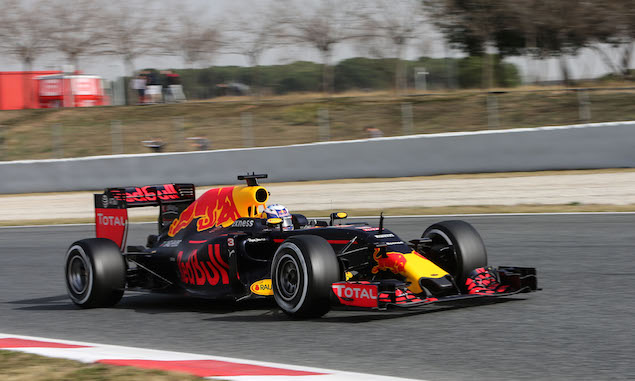 Daniel Ricciardo expects Renault to provide a power unit upgrade which amounts to a "proper chunk" of time during the 2016 season.
Red Bull will continue to run Renault power units - branded as Tag Heuer - during this season having looked to secure a supply from elsewhere late in 2015. The early expectations within the team have been set low, but with Red Bull hoping Renault's return as a full constructor will accelerate its engine development.
While Renault struggled to significantly upgrade its power unit last season as it fought reliability issues, Ricciardo is confident this season will be a different matter.
"Sure we've always got hope and I think a lot of the hope comes from we know we don't have the power that the others have and it's in there somewhere," Ricciardo told F1i. "So that's obviously where the hope comes from. I think as well having two full seasons of development and understanding, that's where a lot of it comes from.
"Where are we expecting it? I would say if all goes well then definitely before the summer we should have some good things. It shouldn't just be a tenth here or there, we should get a proper chunk before then, all going well."
Red Bull made a solid start to pre-season testing last week, completing the fifth-highest mileage of any team during the opening four days in Spain.
Force India winter diary part seven - Shooting the drivers
Keep up to date with all the F1 news via Facebook and Twitter