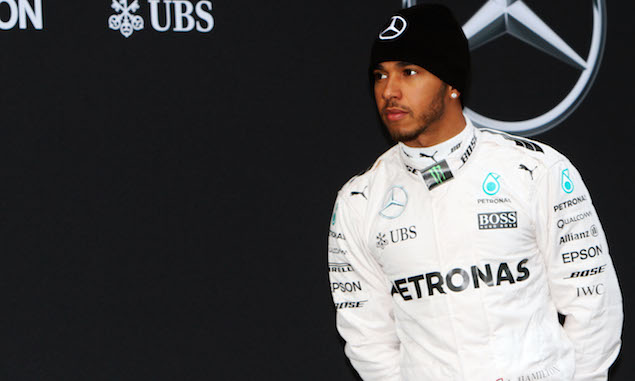 Lewis Hamilton is not happy with new aerodynamic regulations designed to make cars faster in 2017.
The new bodywork dimensions were released by the FIA on Wednesday following approval from the F1 Commission a day earlier, with wider cars set to be introduced. Hamilton says he has not agreed with a number of changes made to F1 regulations since he first entered the sport in 2007 and feels the latest plans should have had more driver input.
"I don't really know what to say about that to be honest," Hamilton said. "I have my opinions about it and I just to keep them to myself really. I don't agree with the changes that are made and have been made for many years, so you just live with it.
"I think the drivers should be consulted and I don't know if they have been involved more in recent decisions, maybe the ones that have just been done, but we do have a feeling in the car, we do have some ideas of what could be better and we do know what could be good in the car.
"It feels, particularly for some of the drivers who have been driving for 10 or 15 years, we've been through all the changes and we know which ones worked and which didn't. So I would say it's a bad thing."
Hamilton - who wants a lighter car - admits change is needed but doesn't believe the right decisions are being made.
"I don't think the regulations are fine, even if there was five teams battling. I like a different kind of car, but I don't have all the answers, I just have a preferred type of car."
Asked what sort, Hamilton replied: "I don't want to get into it because I'll just cause a stir and get in trouble.
"But I love a V12 and wider tyres. I saw a picture the other day of a Ferrari when the sidepods were super low and it must have been mid-80s bodywork. It just looked so cool, the wishbones were really wide and those were the days. I just loved the way the cars looked then. And with a stick shift, those are the days that I liked, but obviously we will never be there again.
"2008 was a great year when we were fighting against another team and obviously since then we've had some great battles, but we need more of them. Whatever decisions they have been making have not been working for some time."
REPORT: Hulkenberg heads Grosjean on third day of test
Follow live coverage and timing from pre-season testing here
GALLERY: Pre-season testing day three
Keep up to date with all the F1 news via Facebook and Twitter