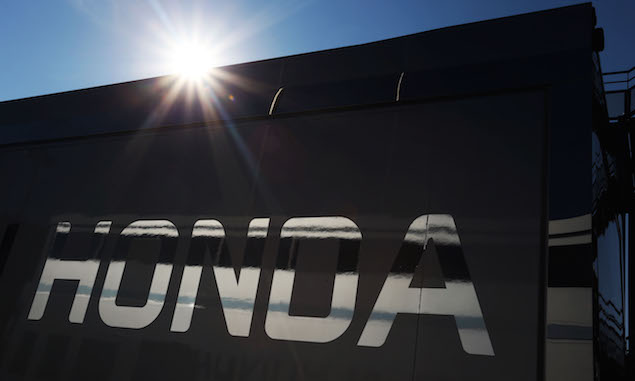 Honda have made a major breakthrough in terms of power output from their engine unit, which may be enough to put them on an equal footing with Ferrari in 2016, according to reports from Spain.
The Spanish AS newspaper cites sources close to the company saying that Honda has found a way to achieve an extra 223 horsepower from the power unit. If true then this could put them almost within touching distance of the sort of performance enjoyed by the championship-winning Mercedes squad in 2015.
Last year Honda's engine was believed to be suffering from a short fall of around 70 horsepower compared with the Mercedes, even before factoring in the additional advantage - thought to be worth more than twice as much again - of the German team's Energy Recovery System (ERS) deployed on long straights.
Honda are reported to have worked 24-hour-a-day shifts over the off-season without any break over Christmas and New Year in order to get on top of the performance issues that blighted their first season back in the sport with McLaren, which saw drivers Jenson Button and Fernando Alonso end up suffering a disadvantage of over two seconds a lap on some high-speed circuits like Spa.
As well as increased turbo power, Honda also hope that relocating the cooling system will take care of the ongoing reliability concerns which meant that the engine had to be run at reduced power without ERS to avoid failing altogether during long, hot races.
Many of the engine's problems had been thought to stem from McLaren's decision to adopt the 'size zero' strategy, an ultra-aggressive way of reducing the power unit down to its smallest possible and most aerodynamic profile.
McLaren racing director Eric Boullier defended the 'size zero' decision earlier this month, telling the media: "If you want to beat Mercedes, you have to do something better, so the way we decided to design and work was to go another path. Over ambitious? I think it is too early to say it is. We have to wait.
"It never impacted on the engine at all," Boullier insisted. "We told them we wanted the tightest car as possible, but we never imposed on them in terms of size of whatever."
McLaren also recruited chief aerodynamicist Peter Prodromou from Red Bull in 2015 to help them get back on an even footing with the ir rivals with the design of the new McLaren MP4-30, and he received an early vote of confidence from Button.
"I like his ideas, I like the way he works in terms of how he listens to us as drivers, said the former world champion toward the end of the 2015 season. "It's a nice feeling as a driver being listened to, because we are the guys in the car and we know what's happening. He is a listener and really uses that information, which is good to see. He's doing a good job but it's not an easy time for him."
Honda had been frustrated in its attempts to improve its own fortunes during the 2015 season because of the 'token' system that stops teams from making significant changes to their engines once the season gets underway.
Even if the reports prove true and Honda have made significant in-roads into addressing their performance and reliability concerns, it's inevitable that their rivals will also have been working hard over the winter to improve their own packages by an incremental amount.
That means no one can be sure just how close Honda now is to Mercedes, Ferrari and the other teams until the two pre-season four-day test sessions at the Circuit de Catalunya-Barcelona, the first of which is due to begin on February 22.
Even then, the true status quo for 2016 likely won't become apparent until the cars head out for the start of the Australian Grand Prix in Melbourne on March 20.
Feature: Slamming on the brakes - F1's biggest braking points
Key dates for the 2016 F1 season
Keep up to date with all the F1 news via Facebook and Twitter