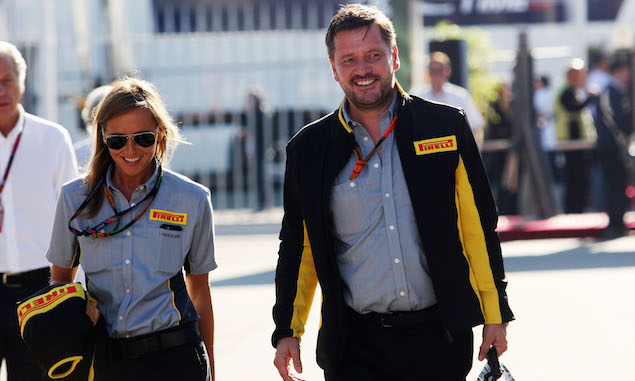 Pirelli motorsport boss Paul Hembery says the tyre manufacturer is preparing itself to be faced with strong performance improvements from the 2016 F1 cars.
Having been conservative in 2014 due to the new power unit regulations, Pirelli was forced to change some parameters regarding its tyres as teams began to use the rubber more aggressively this season. Hembery says there were more variations between different cars this year and he expects that to be even more pronounced based on the predictions Pirelli has been given for 2016 performance from certain teams.
"I guess this season some of the rate of development has meant that we've had to be a little bit more attentive to the differences between the cars as well," Hembery told F1i. "That's something that has become evident, more so than last season. People were a little bit more aligned last year and we've seen some things that the cars and the chassis are doing in combination with the tyres that have made us have to check, which is why we've changed some of the prescriptions that we've used this year.
"We need to be more aware of that next year and it is very difficult because there's such a wide variety of performances that we've seen. It's not actually just that the Mercedes has dominated, there are other teams further down that are also doing things differently to the vast majority of the field.
"So we need to be very attentive looking at the data next year when the cars come out. It seems people are talking very confidently of some strong performance improvements next year."
And Hembery says with more testing time in 2015 Pirelli would have made major changes to its tyre compounds in preparation for next season, having only had one day of testing in Abu Dhabi after the final race.
"Clearly some of the changes we made this year did lose some performance, they made the tyres run cooler and in an ideal world we probably would have revised our compound range for 2016 and changed all the compounds to regain some of the performance. But with one 12-hour test unfortunately you are very limited with what you can do."
Eric Silbermann: A grumpy rear view
Honda exclusive Q&A: Reflections on 2015
Use the red tabs on either side of the screen to scroll through more Formula One news and features
Click here for a gallery of the McLaren MP4-X
Keep up to date with all the F1 news via Facebook and Twitter