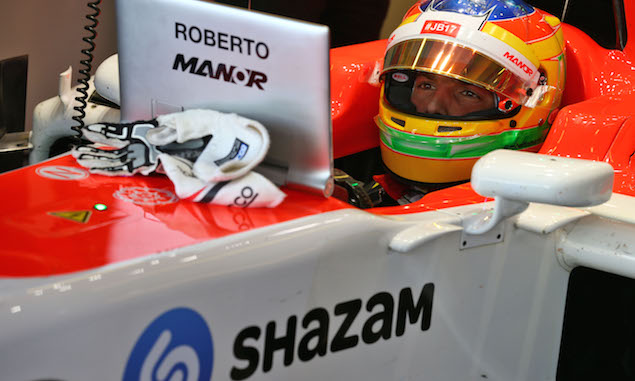 Roberto Merhi admits he is unlikely to be able to retain his seat with Manor in 2016 due to a lack of budget as he starts to look at third driver options.
The Spaniard was brought in by Manor ahead of the first race in Australia following its exit from administration, with Merhi impressing sufficiently to retain his seat for the majority of the season. However, with little budget behind him, Merhi was replaced by Alexander Rossi for five of the final seven rounds before returning to drive in Abu Dhabi.
Merhi told F1i he expects a Manor seat to be too expensive for him in 2016 as the team switches to Mercedes power units, and he now needs to think longer term to try and secure a future F1 drive.
"To be honest I try to improve to be in a better position," Merhi said. "For sure Manor next season is going to have better cars, I'm not sure what the chances are to stay here but to be honest with very little budget it's hard to do something. It would be good to be third driver for a good team to maybe have some running in the car to look forward to 2017 and we will see if we can do that."
And Merhi says he understands the need for Manor to demand more money from its drivers in 2016 having secured the Mercedes power unit.
"It's hard because they are doing a big investment in the team and the new Mercedes engine is quite expensive so you need to have a good budget to try to stay with the team. Obviously next year I think they want to go for points and they need the budget to try to do that."
Asked where he can see himself if he doesn't remain in F1, Merhi says he doesn't want to drop out of single seater racing.
"I would love to continue in single seaters: Formula One, IndyCar ... Maybe WEC is a good championship, I mean it's not a single seater but it's close. It's not like a DTM, DTM is very different."
Graeme Lowdon exclusive: F1 is all about the passion
Super six: Max Verstappen overtakes
Use the red tabs on either side of the screen to scroll through more Formula One news and features
Click here for a gallery of the McLaren MP4-X
Keep up to date with all the F1 news via Facebook and Twitter