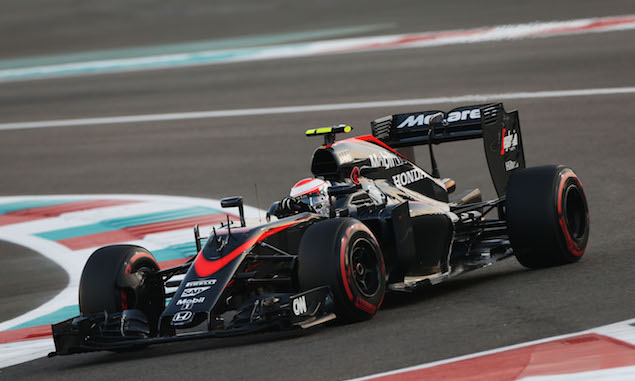 McLaren racing director Eric Boullier says the team's 2016 car "is already delivering more performance" than the MP4-30.
While performance and reliability problems with the Honda power unit often masked McLaren's true potential, Fernando Alonso and Jenson Button both praised the progress made with the chassis by the end of 2015. Following a season which saw the team finish ninth in the constructors' championship, Boullier says the signs are positive for a step forward next year.
"In terms of the car, most of it will be changed, but it doesn't mean we change the philosophy of the car," Boullier said when asked how much would be carried over from the MP4-30. "And as we are currently talking now our car for next year is already developing more performance than this year's car."
And Honda motorsport boss Yasuhisa Arai also says there will be major changes to the power unit but insists the overall approach between McLaren and Honda will remain the same.
"As Eric says, our concept or our philosophy is carried over, but a completely new engine, right now, is under development," Arai added.
And Button says the whole package needs to improve across the board, warning an improvement of the Honda power unit alone will not make McLaren as competitive as it wants to be.
"Hopefully next year we are much further up the grid and the package as a whole has improved," Button said. "I think we all know we need to improve with the ICE and we need to improve with the deployment, but we also need to improve the car. The car is not the quickest car on the grid.
"There is a lot of work needed if we want to be fighting at the front, every area of this car – aerodynamics, the mechanicals of the car – there are so many areas that we think we need to improve."
Eric Silbermann: And the winner is...
Technical analysis - Abu Dhabi
Use the red tabs on either side of the screen to scroll through more Formula One news and features
Click here for a gallery of the McLaren MP4-X
Keep up to date with all the F1 news via Facebook and Twitter