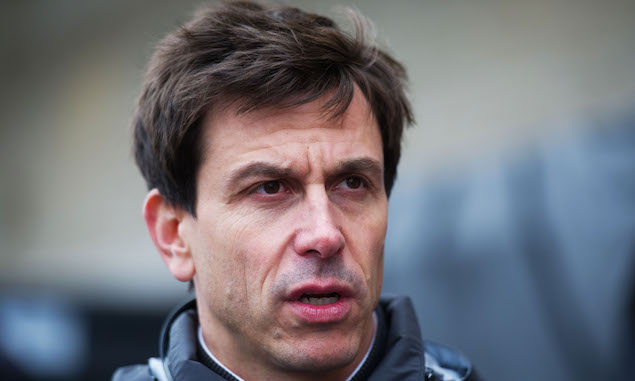 Mercedes boss Toto Wolff says the idea of introducing a second power unit regulation in to Formula One is one of many which "does my head in".
The FIA has officially called for an expression of interest from potential independent engine suppliers to show they would be capable of supplying a cheaper power unit to F1 teams. With FIA president Jean Todt saying he believes a balance of performance can be successful to ensure F1 doesn't become a two-tier category, Wolff insists there is no chance of it working.
"Personally, I think many of us and many of you share the opinion that the balance of performance engine doesn't work in Formula One," Wolff said. "It doesn't even work in any other category. We hear the aggravation in GT racing and it does my head in hearing ideas.
"It's like we are completely stuck, eyes closed, on what happens in other series and the problems around that, that somebody just pulls a rabbit out of his pocket and says, 'why don't we do that?'
"But I'm not surprised to hear - let's call it 'interesting' - new concepts, from around the corner. That happens regularly."
And Wolff blames a lack of clear direction within the sport as one of the catalysts of the current situation.
"I think there are some legitimate causes, the price is a legitimate question. Is the price good, low enough for the small teams? That question can be raised. Is the engine and its concept right for Formula 1? That can be discussed.
"But it seems to me that we are going in cycles, that at certain stages we want to be road relevant and the pinnacle of technology, want to attract constructors...
"But once you have the constructors on board like we have now, four constructors, all sharing the same opinion, then you believe, 'oh, actually we don't want constructors in the sport, we would rather have it like GP2'."
REPORT: Rosberg takes fifth pole in a row by 0.078s
AS IT HAPPENED: Brazilian Grand Prix - qualifying
Use the red tabs on either side of the screen to scroll through more Formula One news and features
Click here for Saturday's gallery from the Brazilian Grand Prix
Keep up to date with all the F1 news via Facebook and Twitter