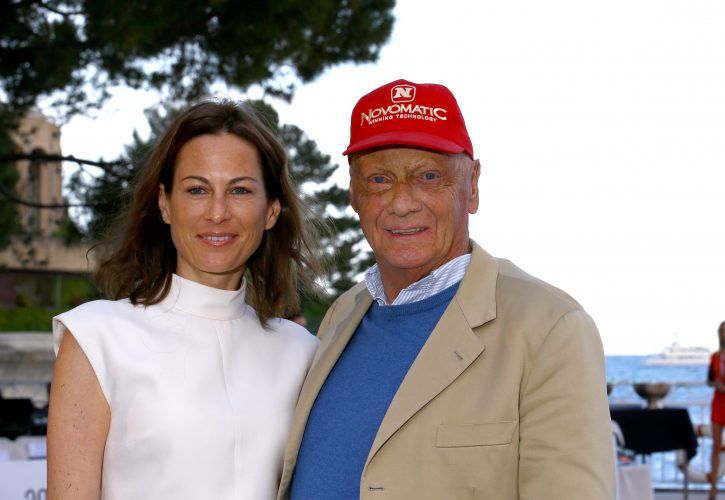 Niki Lauda says he would no longer be with us today without his wife Brigit and the personal sacrifice she made to prolong the life of the man she loved.
In 2005, after a previous kidney transplant had failed, 26-year-old Birgit Wetzinger successfully donated one of her organs to the F1 legend.
"We had been dating for eight months when I had a kidney problem," Lauda said in an interview with sports reporter Graham Bensinger.
"I asked my son Lucas if he test to donate a kidney, but it did not fit. Birgit then said she would do the test, but I asked 'Why would you do the test'? Because I want to, she said. I said you will never ever donate your kidney, because I'm ill and I've known you for eights. So I would never do that'."
"She did the test, and she did fit. For about three months she gave me always the same impression, 'I do it for you because I love you'. She was never frightened or asked any questions, it was just a pure approach 'I will do it'.
"After a long time thinking about it, we went and when they pushed her away in the hospital I was praying that nothing would happen to her.
"I got the kidney and it works 100 percent right, it's fantastic!"
The couple were not married at the time of the operation but Lauda, who vowed never to marry again in his life, finally accepted to settle down with the former stewardess in 2008, and even extend his family.
"I married her, not because of the kidney donation, but because she was the right woman to marry. And then we got twins, Max and Mia. I was really lucky to have all these things happen."
The three-time world champion admits that he missed out on most of the pleasures of fatherhood when he first two sons, Lucas and Mathias, were born as he was completely focused on his racing life.
But he's had the opportunity to catch up since.
"Now, I have more time, and no risk at all. Now I enjoy my two little kids, they keep me young I have to say and it's fantastic what my life is today.
"But I don't regret the past, because I had no choice. It was different times. Today I have a fantastic relationship with Lucas and Mathias, so everything in the end worked out very well."
Gallery: The beautiful wives and girlfriends of F1 drivers
Keep up to date with all the F1 news via Facebook and Twitter