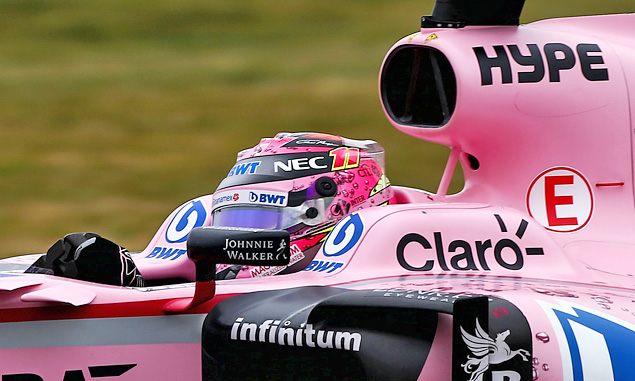 Force India driver Sergio Perez will start tomorrow's British Grand Prix from sixth place on the grid. But he still lamented missing out on an even higher starting position.
With both Valtteri Bottas and Daniel Ricciardo hit by gearbox penalties, Perez felt that there had been a window of opportunity for the team. However, Renault's Nico Hulkenberg was able to edge him by half a tenth of a second in Q3.
"I was disappointed we didn't finish one place higher," the Mexican driver admitted. "When the gap is so small you know you had the chance to be ahead.
"My final lap could have been better because I lost time running over the kerbs in the final corner so there was room to improve.
"It was a very difficult qualifying session," he added. "It was important to be on track at the right time, especially during Q1 the wet conditions.
"On the other hand, we are still starting in a great place tomorrow," he continued.
"We have a strong car and if the weather conditions are similar there could be the opportunity to finish even higher up," he predicted. "We will keep our heads down and try to deliver the perfect race."
Perez just managed to edge his team mate Esteban Ocon by under two tenths of a second in the closing moments of qualifying.
"It's been a really tough qualifying session, so I am happy to finish in eighth place," he said. He'll move up one place on the grid thanks to Bottas' penalty.
"I'll be seventh on the grid tomorrow, which is not a bad place to start. Especially considering everything that happened during this session!"
Ocon had been one of only two drivers to dare risk a run on slick tyres at the end of the wet first round of qualifying. The gambit meant he finished Q1 in an impressive sixth place.
"It was a calculated risk," he recalled. "We only took the decision at the final corner.
"I had one lap to get the time and I got blocked by Ericsson. I still managed to improve my time, even though it was very much on the limit.
"In Q2 I had my brakes on fire!" he revealed. "And during my second run I lost all radio contact with the team. I was there, driving alone. I had to look out for the pit board like in the old times."
Overcoming all the difficulties has understandably given the 20-year-old a boost in optimism ahead of Sunday's race.
"The conditions can be very unpredictable, like today," the Frenchman said. "If the rain comes anything can happen.
"We have been strong today and I am confident it can be the same tomorrow."

GALLERY: F1 drivers' wives and girlfriends
Keep up to date with all the F1 news via Facebook and Twitter