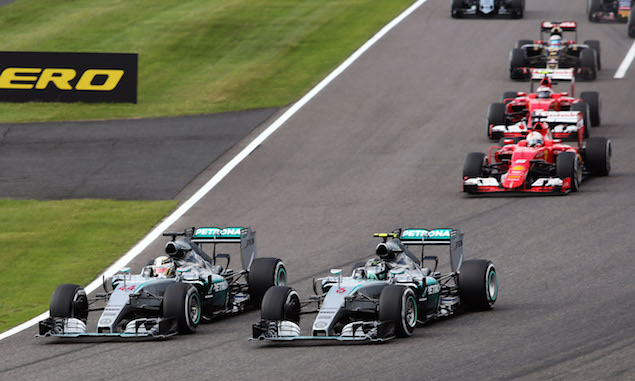 Toto Wolff says Nico Rosberg's start to the Japanese Grand Prix was hampered by having less power compared to Lewis Hamilton.
Rosberg reacted well to the lights at the start of the race but Hamilton was able to pull alongside ahead of Turn 1, forcing his team-mate wide at Turn 2 as he took the lead. Wolff explained the pole-sitter had been affected by a power unit issue due to high temperatures, which could have come from the way Rosberg prepared the engine during the formation lap.
"The initial get away was good for both cars but Nico had a little issue with a hotter power unit and when it kicked in after a couple of seconds, he didn't have the same power as Lewis," Wolff said. "This is temperature related. There was a slight drop in power due to a temperature related issue. We don't know if it is down to the driver."
Saying Rosberg was affected from turns one and two, Wolff hinted the severity of the problem was due to the driver's management of the power unit rather than a reliability issue for the team.
"It is important to get the clutch and engine in to the right temperature window. The driver manages that on the installation lap. So they are a bit different procedures.
"Both of the drivers work on that but today that lap triggered different temperatures in the power units."
RACE REPORT: Hamilton eases to dominant Suzuka victory
"I'm joking. You can laugh as well" - Rosberg and Vettel's awkward exchange
AS IT HAPPENED: Japanese Grand Prix
Click here for the F1 drivers' girlfriends gallery
Keep up to date with all the F1 news via Facebook and Twitter